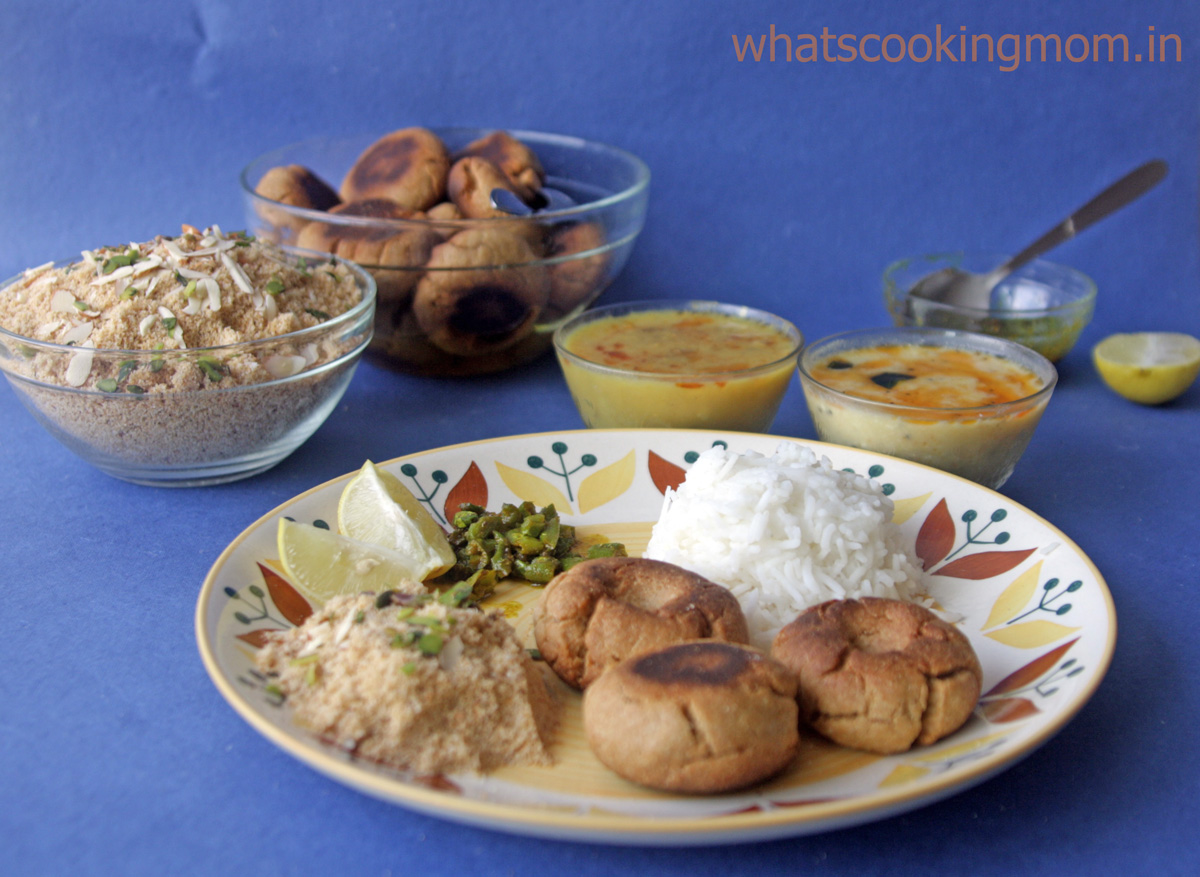 Dal Baati Churma is one of the most popular foods of Rajasthan. This is a very rich dish (as you can see there is a lot of ghee involved) and is usually served in social functions (gots). Hot Baatis are served with panchmel dal/ mixed dal, kadhi( Khatto), Churma, rice and mirch ke tipore.
There are many varieties of churmas. Most popular are plain churma( which I have made), besan ka churma, rose churma and badaam churma.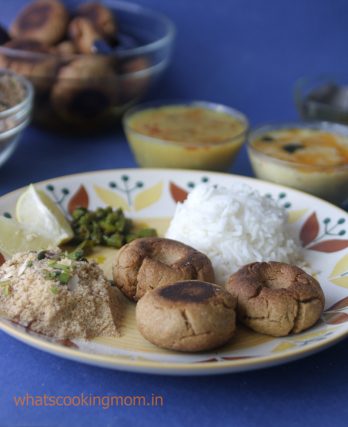 This dish requires some effort but once you start making it often it doesn't seem like a big deal. In Rajasthan people generally make this dish when there is a large gathering.
In monsoons you can see many groups on picnic spot who have brought their cooks with them. They make dal baati churma on the spot, sit on ground and serve these in pattals. That in itself is a unique experience.
The whole process of making Dal Baati Churma took me around 2 hours with help from Axat, who took the responsibility of baking the Baatis and handling the tandoor.
Start by making dough for churma. Then dal kadhi and tipore. In the mean time start baking baatis.
How to make Churma for Dal Baati Churma
Ingredients:
2 cups whole wheat flour
½ cup Ghee
Water to make dough
1 cup sugar, powdered
½ tsp cardamom powder (elaichi powder)
2 tbsp ghee
2 tbsp slivered almonds and pistachio
To make Churma 

Mix wheat flour and ghee in a bowl. Add water and knead a firm dough. Leave the dough covered for 15 minutes. Knead again and make 8 balls. Press the balls between your palms to flatten a little.
There are 2 ways of cooking these baatis for churma. You can deep fry them in ghee or bake them in oven or tandoor. I have baked them in tandoor for 20 minutes turning in between. Let them cool for some time. Grind them to a coarse mixture in your grinder. Add powdered sugar, cardamom powder, nuts and ghee to it. Generally a lot of ghee is added to churma but for health reasons i have added only 2 tbsp. If you are in mood of indulgence go ahead and add ghee so that when you hold churma in hand in hand it retains the shape.
You can store churma in air tight container for weeks.
This recipe makes enough churma for 4 persons and extra for eating later on. We always make some extra churma as same amount of effort is involved if you make it half.
How to make dal for Dal Baati Churma
Ingredients:
¾ cup Arhar Dal
2 tbsp Channa Dal
2 tbsp dhuli Urad Dal
2 tbsp dhuli Moong Dal
2 tbsp dhuli Masoor  Dal
salt to taste
¼ tsp turmeric
1 green chilli cut into small pieces
a small piece of ginger, grated
For tempering:
2 tbsp ghee (clarified butter)
a pinch of asafetida
½ tsp cumin seeds (jeera)
½ tsp red chilli powder
½ tsp coriander powder ( dhania powder)
To make dal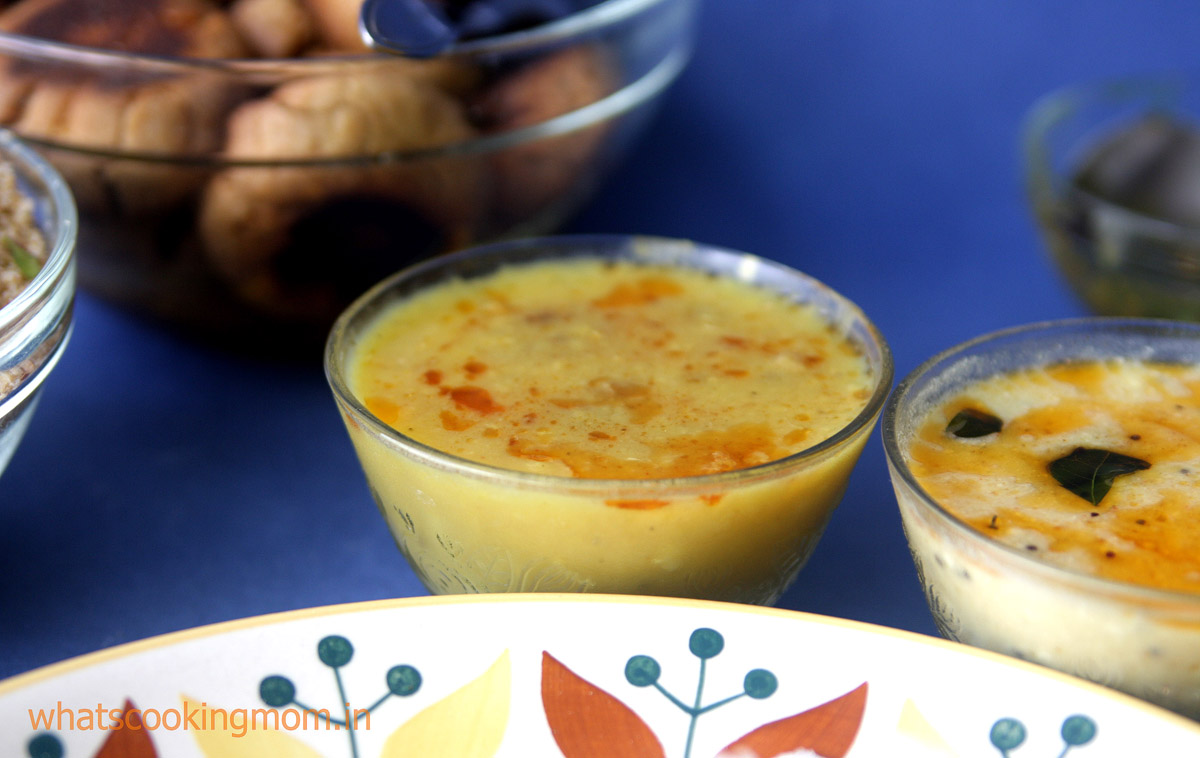 Wash and soak the dals in 3 cups of water for 30 minutes. Don't throw the water in which dal is soaked. Add salt, turmeric, ginger and green chilli. Pressure cook for 15 minutes (One whistle on high and then you can turn the flame to low). Wait for some time after switching off the flame. After all the steam has escaped check the dal. Add more water if needed to get the right consistency.
Generally dal is not very thick as baati is soaked in it.
Heat ghee in a small pan. Add asafetida and cumin seeds. When cumin seeds start to crackle add chilli powder and dhania powder. Switch off the flame immediately and add the tempering to the dal. Cover the dal with a lid. Serve hot.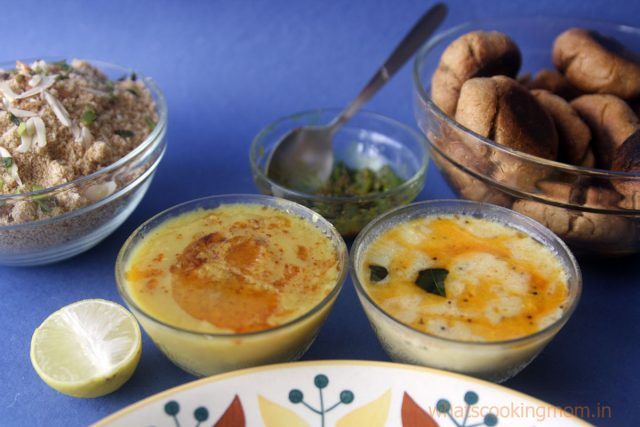 How to make rajasthani kadhi/ khattoo for Dal Baati Churma
Ingredients:
2 tbsp ghee
½ tsp mustard seeds
2 tbsp besan (gram flour)
1 cup sour curd
salt to taste
a pinch of turmeric
½ tsp red chilli powder
water
For tempering:
1 tbsp ghee
a pinch asafetida
¼ tsp mustard seeds
6-7 curry leaves
¼ tsp red chilli powder
To make rajasthani kadhi/ khattoo
Mix besan, curd, salt, turmeric and red chilli powder with the help of a little water so that no lumps are formed. Heat ghee in a kadai. Add mustard seeds to the hot ghee. When seeds start to crackle add curd besan mix.
Add more water to the kadhi. Rajasthani kadhi is not thick like Punjabi kadhi pakodi. It has soup like consistency.
Cook for 15-20 minutes. We generally add tempering to the kadhi right before serving. It adds flavor and color to the dish.
Heat ghee in a small pan. Add asafetida and mustard seeds. When seeds crackle add curry leaves and red chilli powder. Switch off the gas and add to the kadhi. Cover the kadhi with a lid immediately.
How to make Baati for Dal Baati Churma
Makes around 12-15 Baatis
Ingredients:
3 cups wheat flour
½ cup ghee
1 tsp salt
water to make dough
ghee for soaking baatis
To make Baati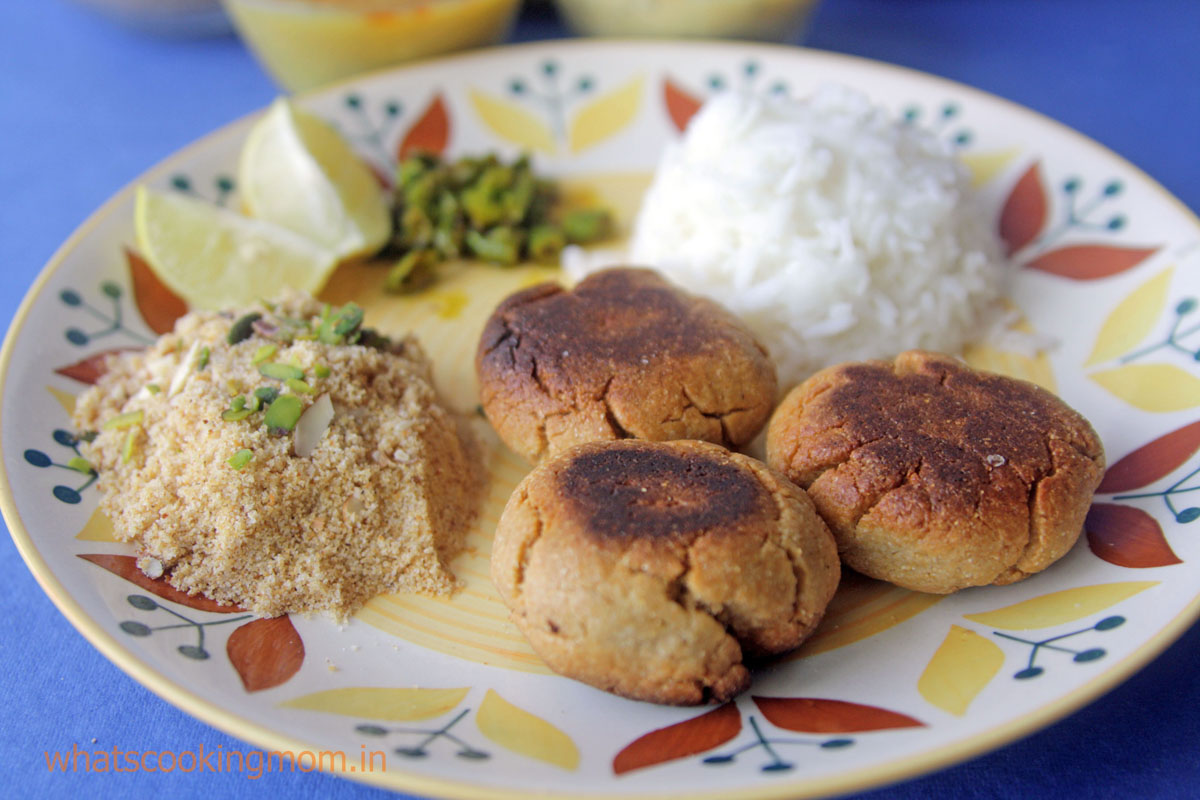 Mix flour, ghee and salt and with the help of water make a firm dough. Knead the dough for 5-7 minutes. Leave it covered for 10-15 minutes.
Divide the dough into 15 equal parts and shape into a round ball. Flatten the balls by pressing in your palms and with your thumb make an indentation in the centre.
If you are baking baatis in gas tandoor there is no need to make this indentation. Gas tandoor is best for making baatis.  As I have made these in electric tandoor this time I realized if we do not make indentation baatis get baked more where they are touching the tray.
 Bake in oven/ tandoor for 20-25 minutes, turning in between to ensure a uniform baking. Gas tandoor may take more time around 30 minutes. When baatis are baked soak them in ghee (while still hot).
Serve hot baatis with dal, kadhi, mirch ke tipore and Churma.