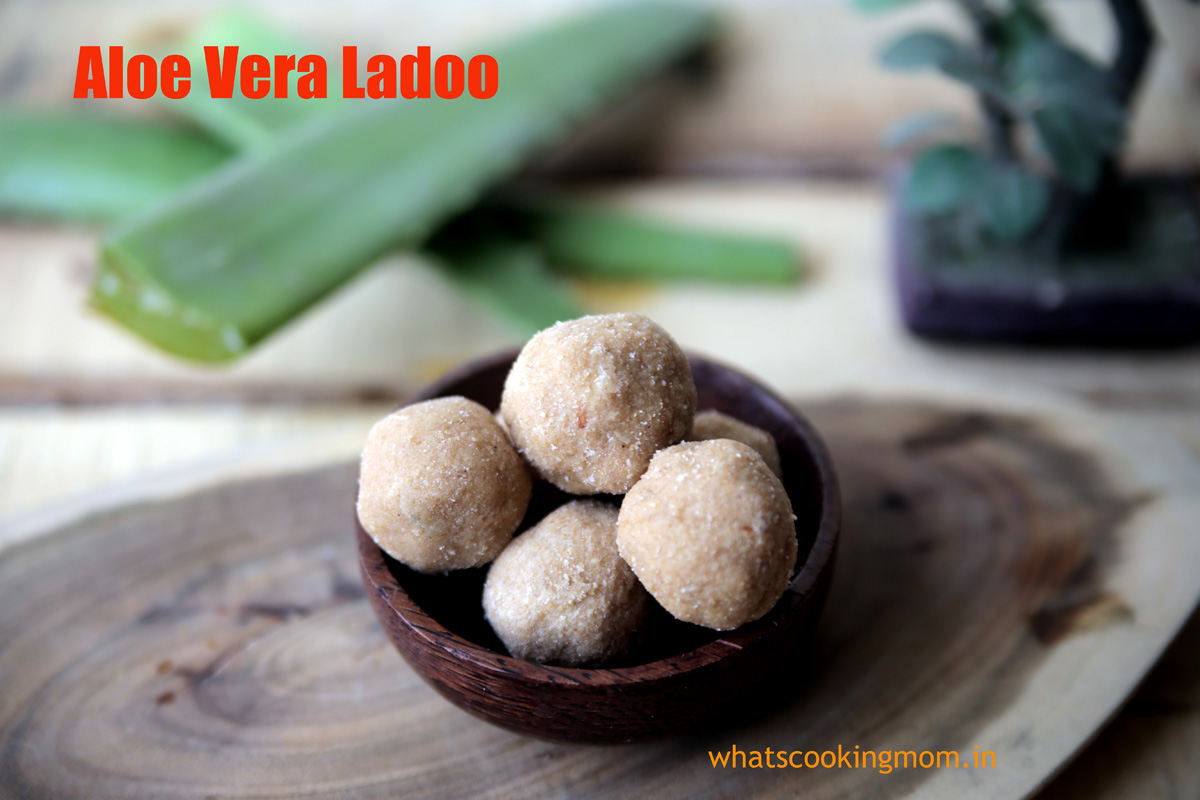 Aloe Vera Ladoo or gwarpatha laddu is the best and probably yummiest way to eat aloe vera. We all have heard about the goodness of aloe vera, its health benefits. You can find lots of juices, creams, gels with aloe vera to improve your health and for your skin and hair. At home, you can have its juice, make its sabzi but its bitter taste makes it really difficult to eat it.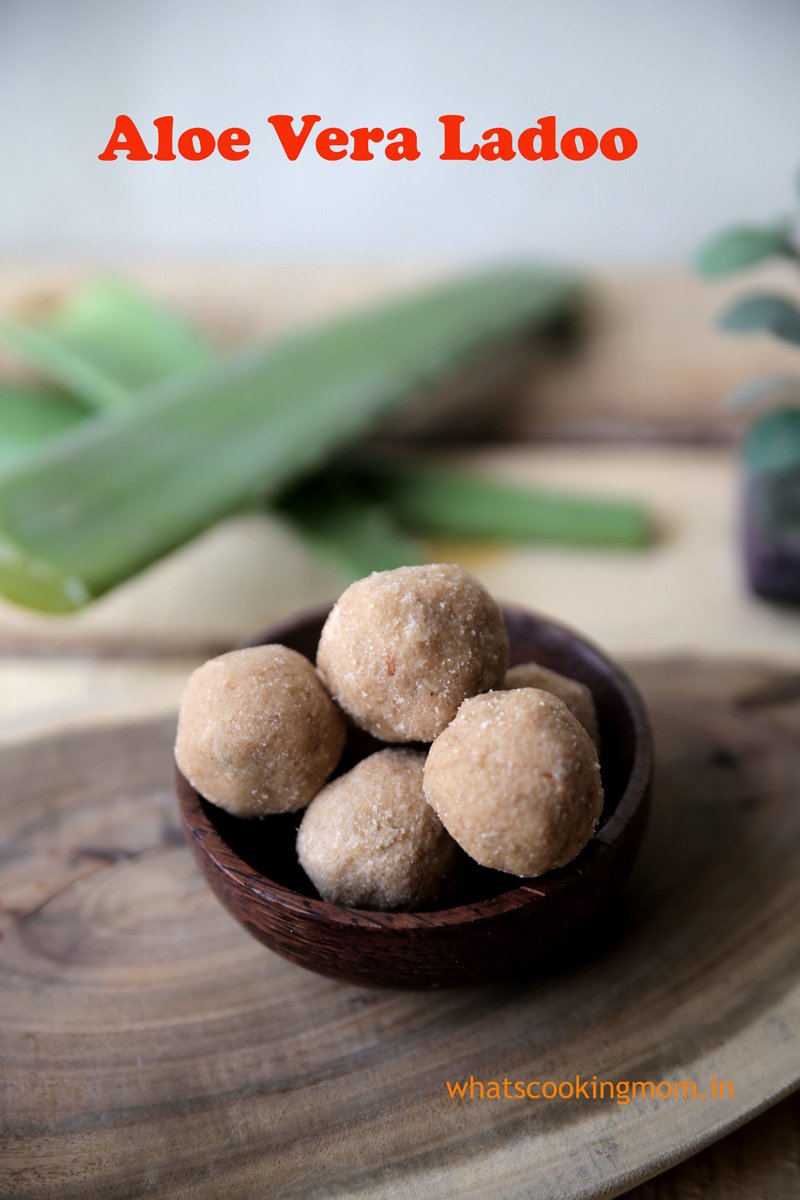 This is my mother's recipe. She has been making this aloe vera ladoo for years now. And the best thing is that we have been enjoying these ladoos without having to worry about aloe vera's bitter taste.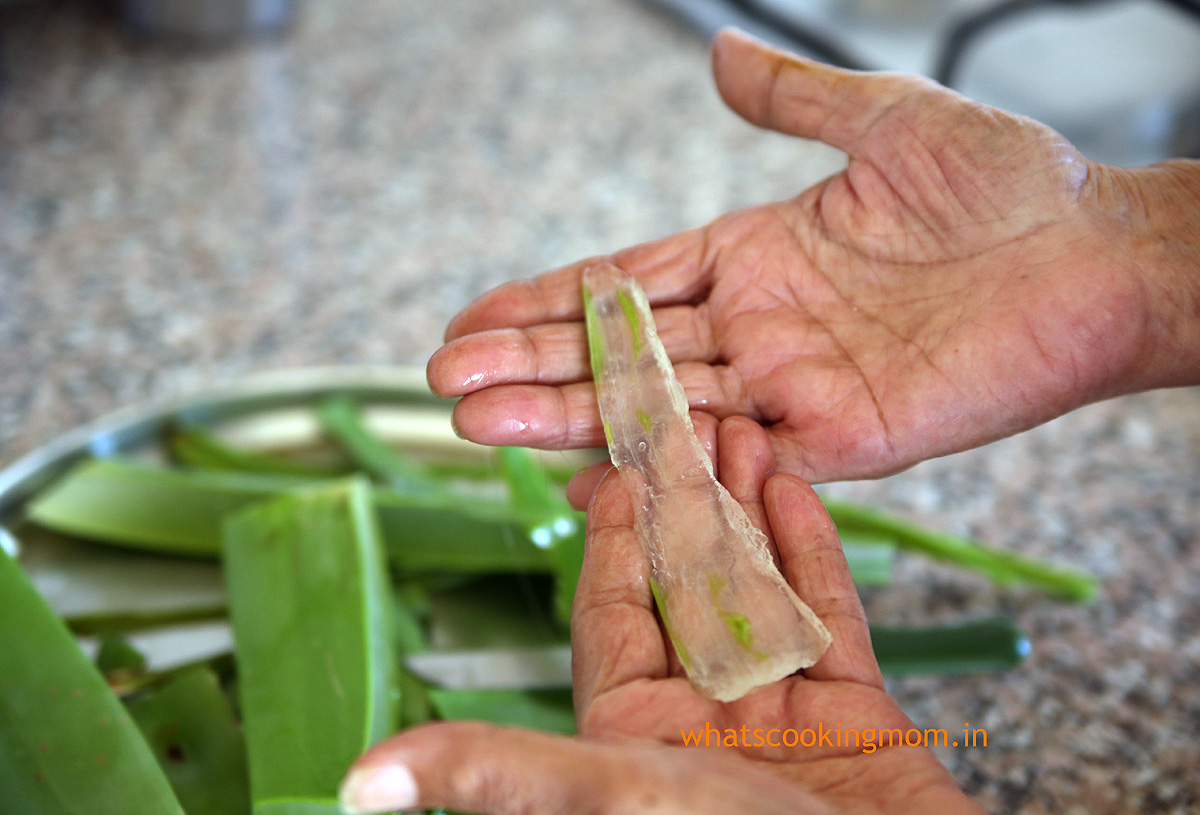 I think most of you will agree with me when I say Nothing taste's better than maa ke haath ka khana( food prepared by the mother). second best option to maa ke haath ka khana is definitely maa ki recipe;-) ( mother's recipe). They are always foolproof, remind us of our childhood and are loaded with years of wisdom.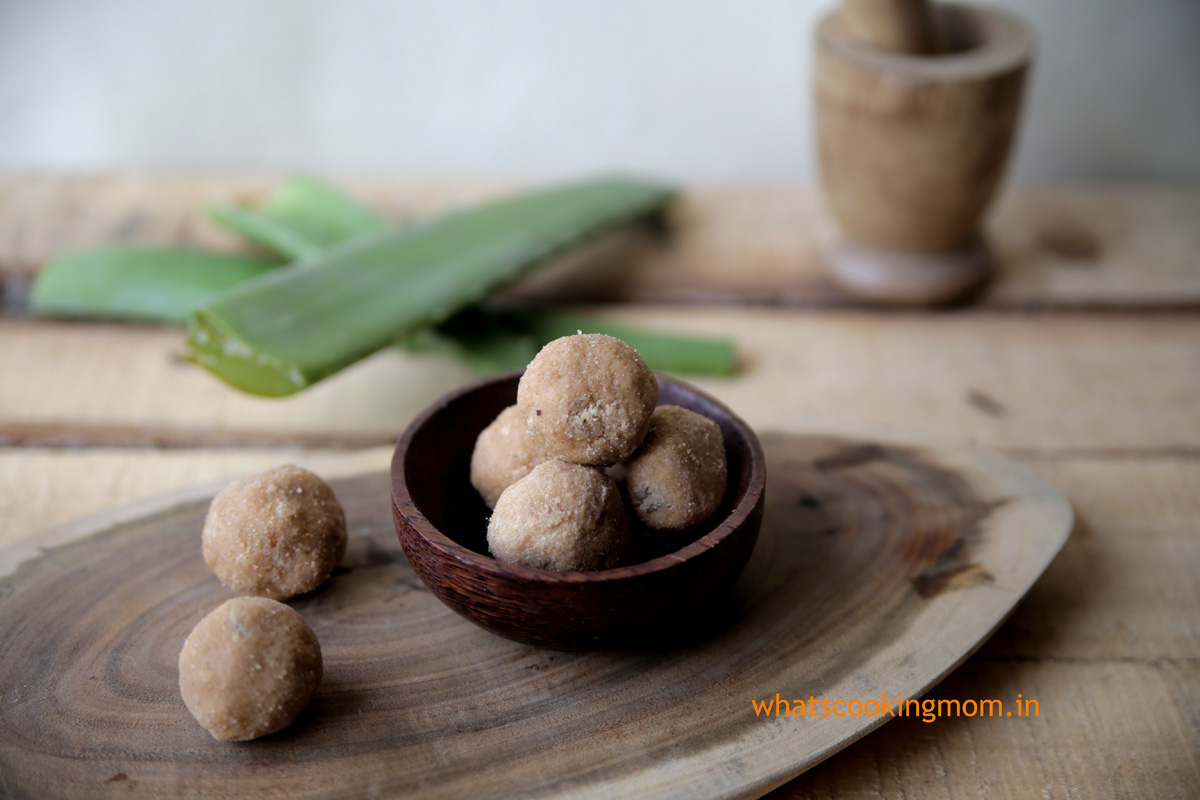 I always make a list of things I will learn from my mom when I visit her in summer holidays or if she is visiting me. When my parents were visiting me this November I had two main items on my list that I wanted to learn from her. Aloe Vera Ladoo and Gobhi Gajar Shalgam Achar. She made these Ladoos while she was here and they were just perfect. My elder son (who is very particular about food and generally try to avoid healthy recipes 😉 ) also loved these.
Next recipe that I will be posting is Gobhi Gajar Shalgam Achar. Don't forget to check that out.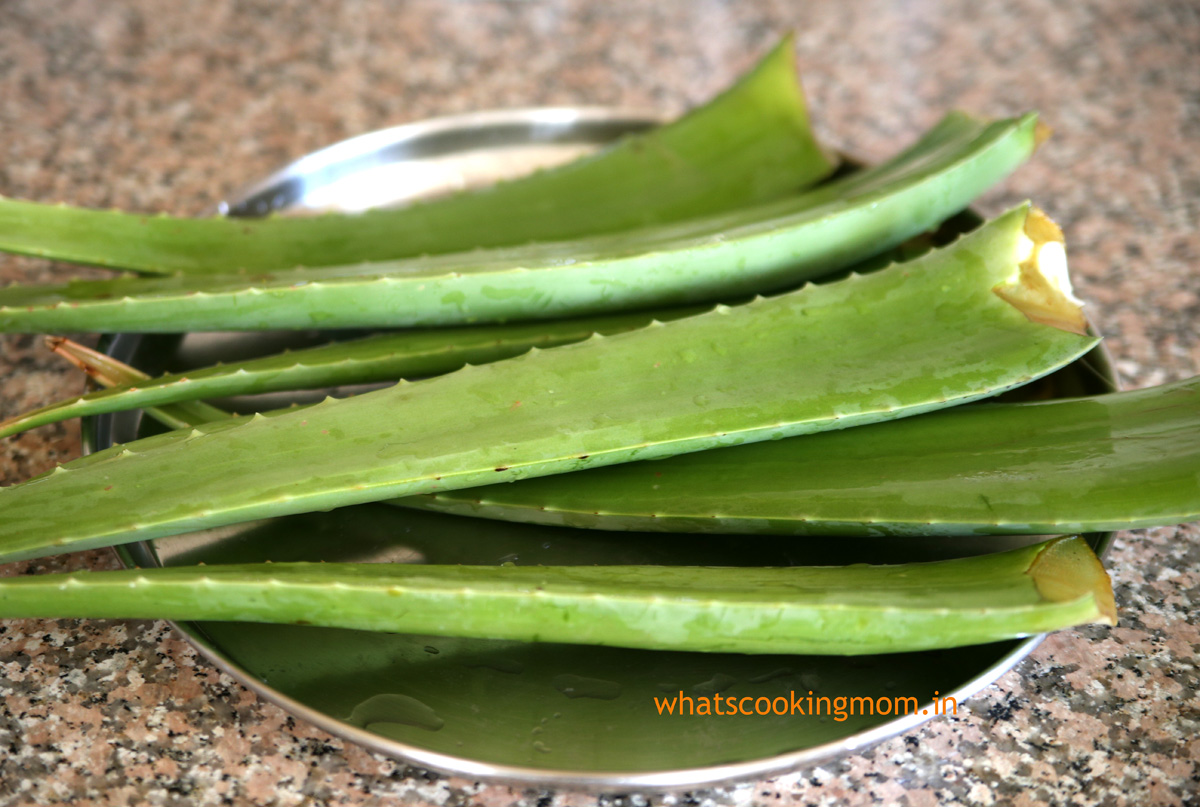 Note: 1. Try to select thick, firm leaves for ladoos. when we press these leaves they should be hard not soft. Hard leaves have more pulp in them.
2. These ladoos should preferably be eaten in cold weather as they have a warm nature according to my mom 🙂
How to make Aloe Vera Ladoo
preparation time: 5 minutes to prepare aloe vera gel + 10 minutes to shape ladoos
cooking time: 50-60 minutes to make aloe vera gel mawa + 20-25 minutes to make ladoo
makes around 40 ladoo
Ingredients:
1-liter milk
300 grams aloe vera gel
250 grams Ghee
500 grams whole wheat flour
300 grams boora or powdered sugar
10 almonds chopped
10 kishmish/raisins (my mother adds these in her ladoo but as my kids don't like raisins in ladoo she has not added them this time)
Note: we add a little extra ghee in these ladoos then we would in regular ladoos because of aloe vera gel in it.
To make Aloe Vera Ladoo
First of all, we have to take out the gel and weigh it. Wash aloe vera leaves and cut sides first. Then cut it in half and remove all the green part to get the gel. it is a bit slippery so you have to be careful.
This is the gel that we want. While you are removing green part keep the gel in water otherwise it will get bitter. I got 300 grams of gel from 4 leaves but it will depend on the thickness and length of the leaf. when you have taken out all the gel take it out of the water and weigh it.
Take a thick bottomed pan and heat milk. we don't want boiling milk just hot. cut small pieces of aloe vera gel and add to the milk quickly.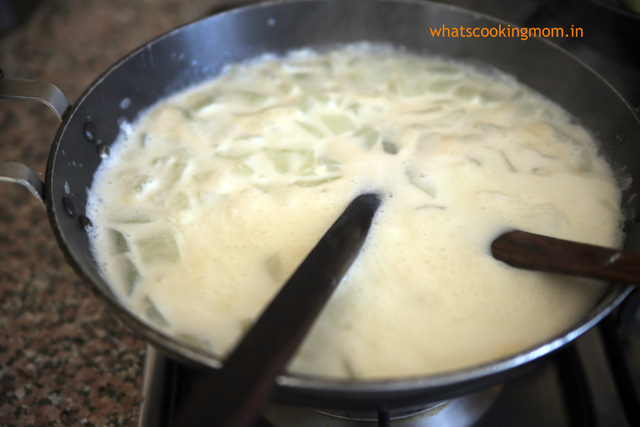 Let it cook on high flame. this milk aloe vera gel mixture is prepared on high flame and you have to stir it continuously so that it does not stick to the bottom of the pan. it takes around 45-50 minutes. The mixture will get concentrated and thick, it will start coming together. I am sorry I don't have a photo of thickened milk mixture.
update: I made this ladoo again and this time I remembered to take these photos.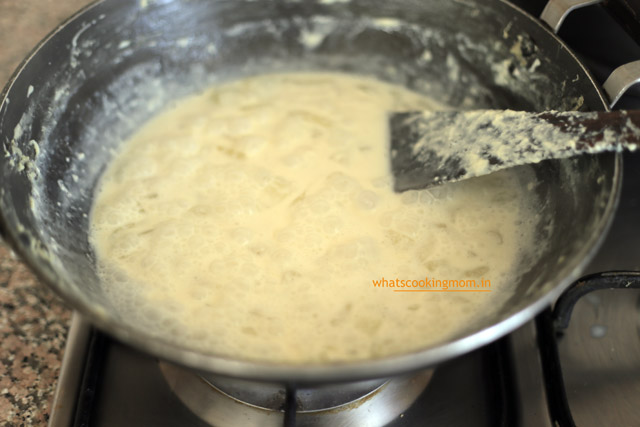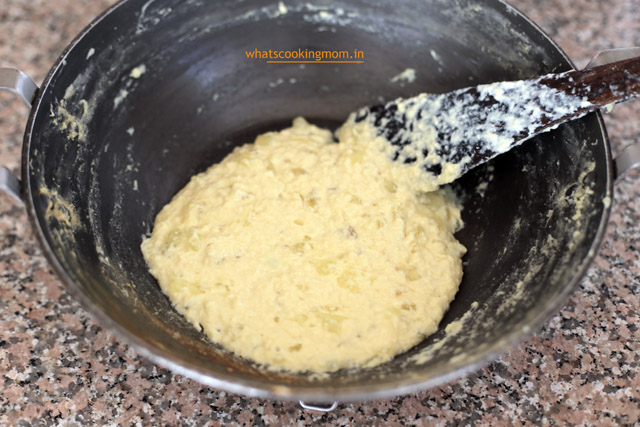 This is how thick we want it to be. But as you can see there are still chunks of aloe vera in it. we will blend it to get a uniform mixture.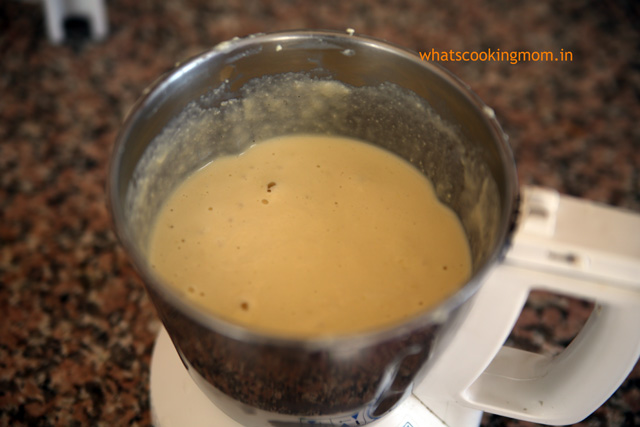 Let the mixture cool a little then blend it to get a smooth mixture.
put it back on flame and cook for another 7-10 minutes till it becomes thick and starts leaving the sides. Leave it aside to cool.
Note:
you can store this mixture in the fridge for up to 2 days if you want.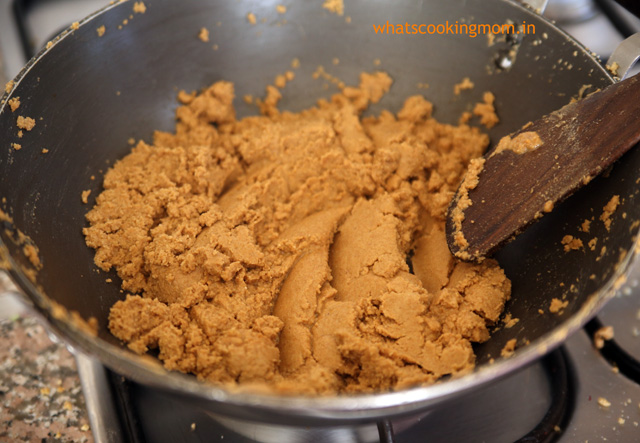 Now heat ghee in a thick bottomed pan. when it is hot add whole wheat flour and cook on the medium or low flame till flour changes its color and turns brown. it will take around 15 minutes. Keep on stirring continuously to ensure even cooking.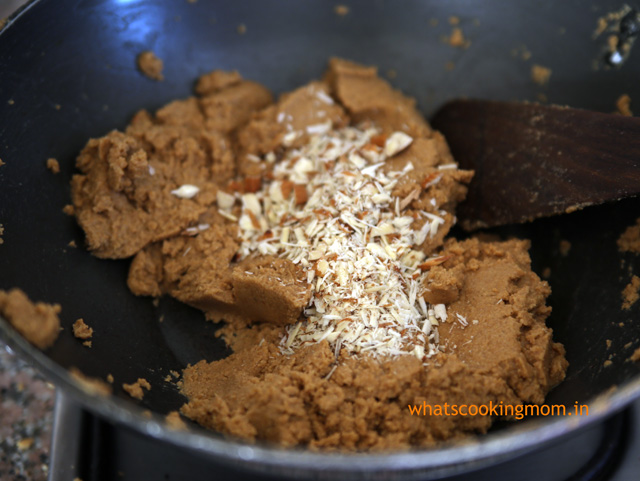 when wheat flour is almost cooked add almonds to it so that they also get slightly roasted.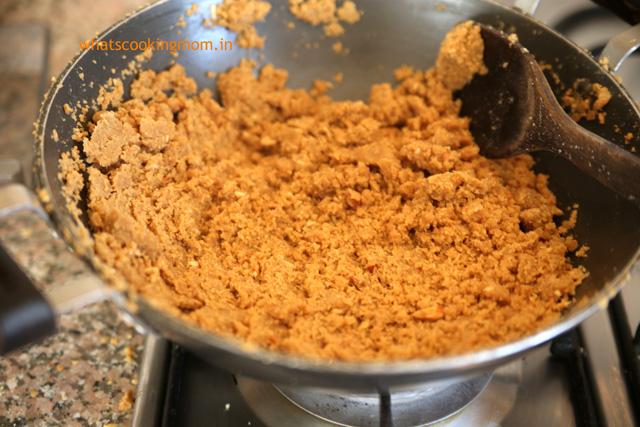 This is how it should look.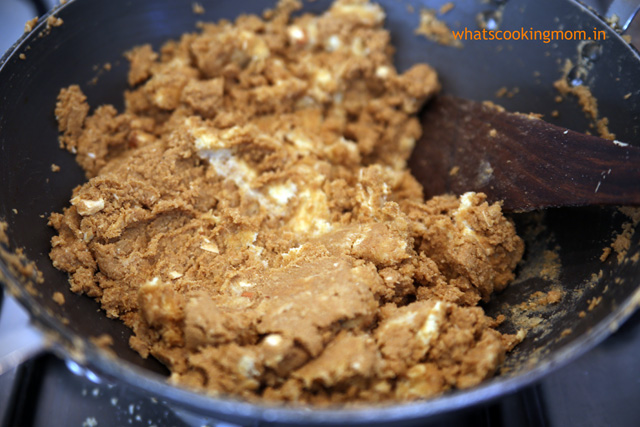 Add aloe vera gel mawa to the cooked atta and cook for 2 more minutes stirring continuously.
Note:
If you had kept aloe vera gel mawa in fridge please make sure that it is at room temperature when you add it to the ready wheat flour.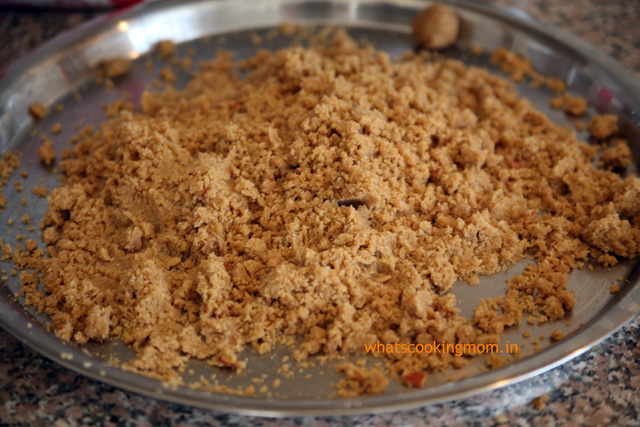 Shift in a thali and leave it to cool slightly so that it is warm enough to give shape and cool enough to handle.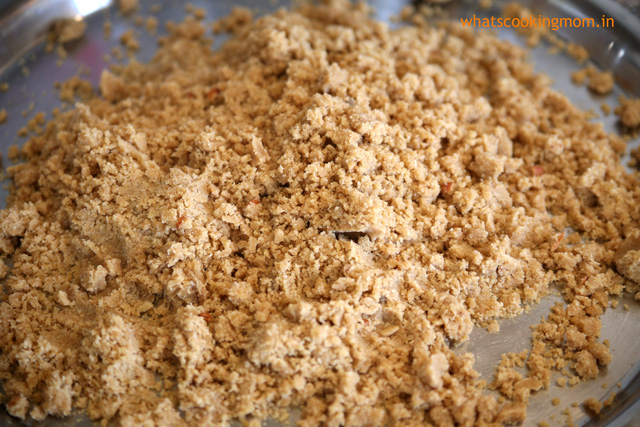 Add boora or powdered sugar. Mix thoroughly and taste the mixture. if you want you can add more boora according to your taste now.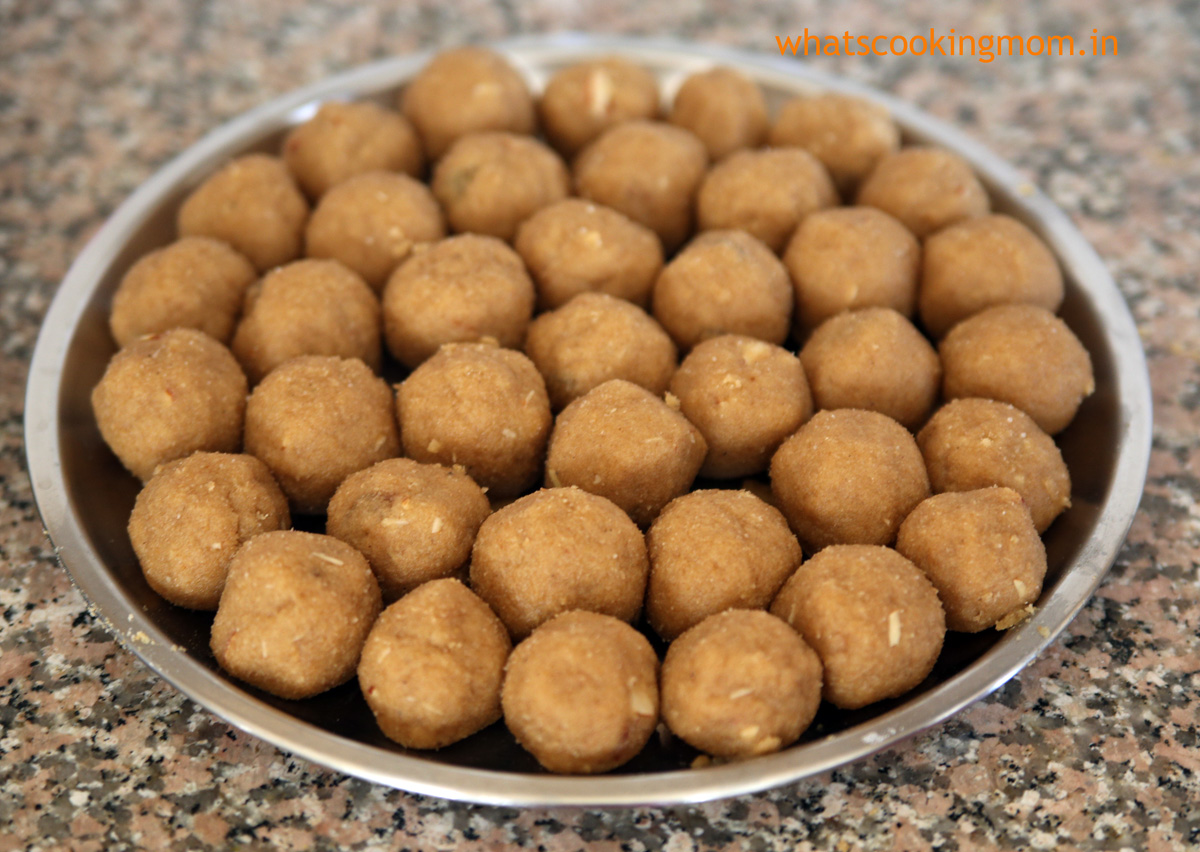 Give Shape to the ladoos.
Make small sized ladoos and enjoy 1 ladoo daily 🙂