A very Happy Holi to all my readers.
Today I am posting recipe of Black carrot Kanji, a traditional drink usually made in sping season around Holi. A colorful drink for a colorful festival. Perfect combination!
Holi is one of the most celebrated festivals of India which is equally popular among kids and adults. My son was up at 6 o clock (yes …in the morning) and was busy filling his balloons with water, assembling Gulal (Colors) and filling his waterguns with colored water.
I was not able to post any recipe for some time and the reason was that I was very busy with my son's exams. As I am free now (love the kids holidays as no getting up early) so I will be posting some new recipes soon.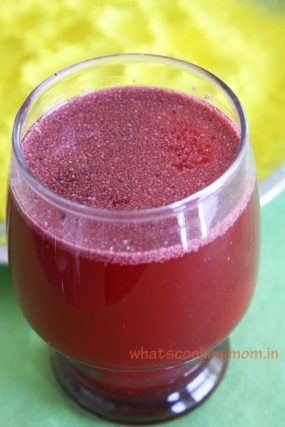 Black carrots are a rich source of antioxidants and nutrients and are inhibitors of LDL (bad cholesterol).
How to make Black Carrot Kanji
Preparation time: 10 minutes
ready to drink in 2-3 days
Ingredients:
4-5 black carrots
1 small Beet root (optional)
3 liters water
4 tsp rai (mustard seeds)
4 tsp salt
2 tsp red chili pepper

To make Black Carrot Kanji
It is very simple to make. Wash and peel the carrots. Cut into pieces lengthwise. You can add Beet root to get a dark color.
Dry grind the mustard seeds and mix with salt and red chili powder. Mix all the ingredients in a glass jar or earthen pot. Stir well.
Let it sit in sun for 2-3 days. Shake the jar 5-6 times a day. It should be ready in 3 days. Check the taste before serving. Stir well and pour into glass with 2-3 pieces of carrots. Kanji should always be consumed in moderation, not more than 2 glasses in a day. Enjoy!