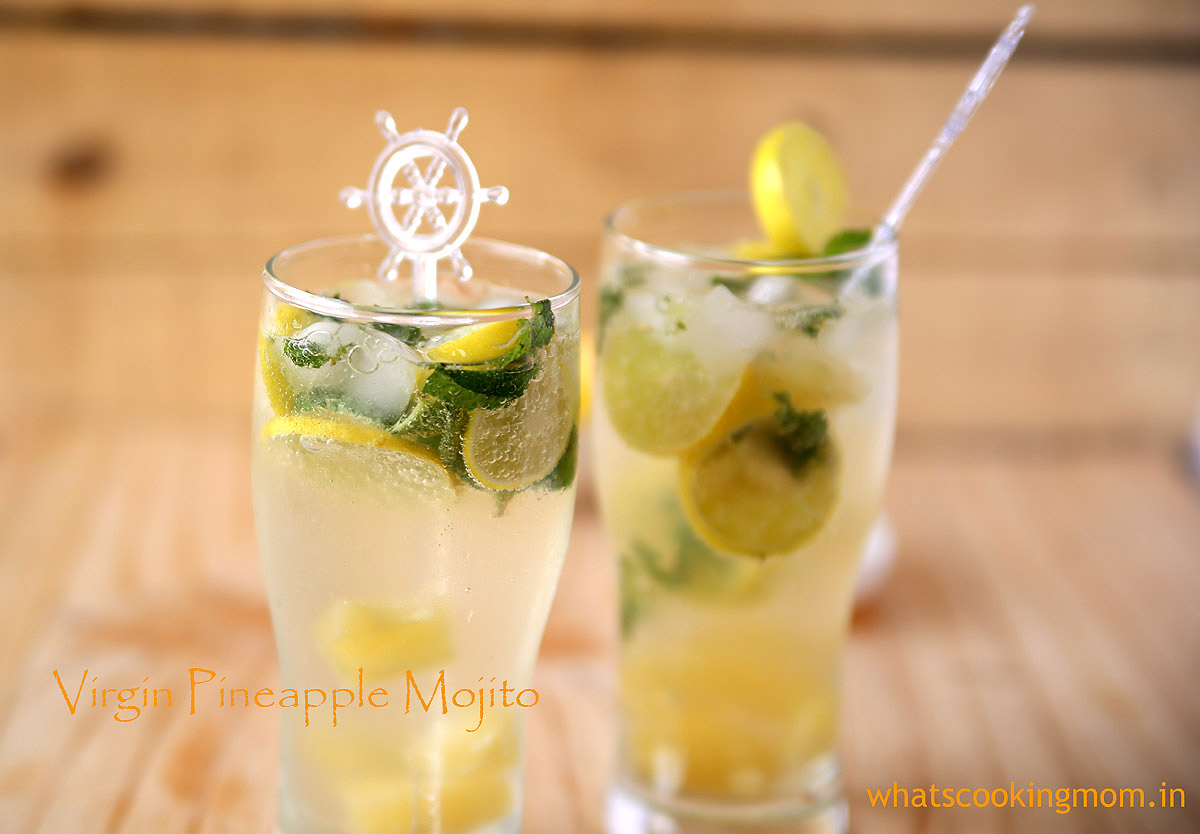 Virgin Pineapple Mojito – minty minty cool cool refreshing summer mocktail. Mojito is so strong in flavor. you have sweet, sour, minty, topped up with lots of ice and sprite. Simply addictive. you will love the mint as never before in mojito. I usually make Virgin Mojito this time I tried it with pineapple and the result was awesome. Pineapple being a sweet fruit contributes to the flavors and helps in reducing the quantity of sugar in the drink.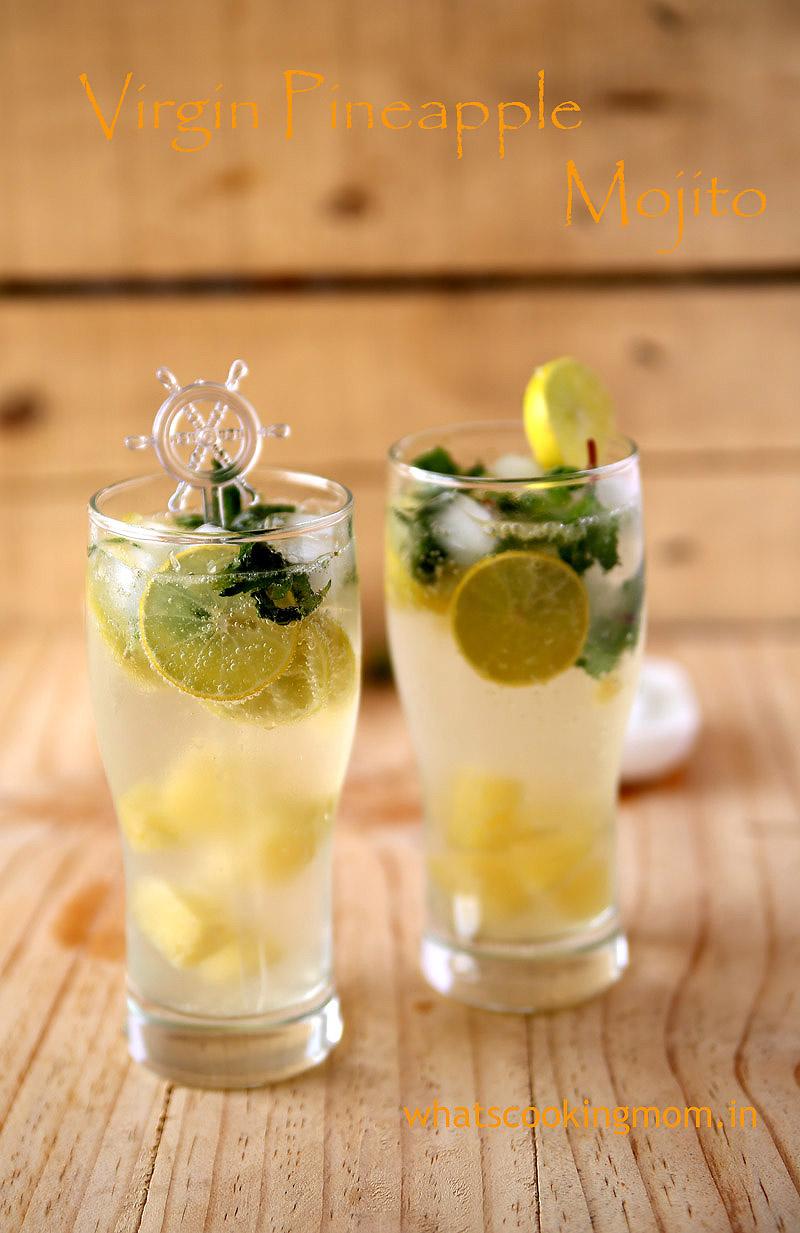 Just look at that glass. Don't you feel like grabbing it from the screen and enjoying it. what more could we want on a hot summer day.
How to make Virgin pineapple Mojito
Preparation time: 5 minutes
no cooking required
serves 2
Ingredients:
1/4 cup pineapple cut into cubes
2 tsp sugar
1 lemon
500 ml sprite
lots of ice
15-20 mint leaves
Note : 1 If you want a stronger flavor of pineapple you can add 1 tbsp of pineapple juice to each glass.
2 you can use soda also in place of sprite. you might have to increase sugar a little in that case.
To make Virgin pineapple Mojito
Cut slices of lemon and remove the seeds. Put half of lemon slices, sugar and mint leaves in each glass. You can also roughly chop mint leaves if you like.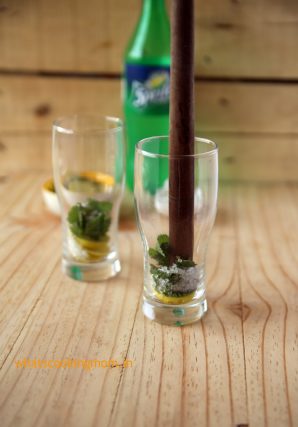 Crush these with the help of muddler or back of a wooden spoon. This will help in releasing and blending the flavors of lemon and mint and gives this amazing drink its unique flavor.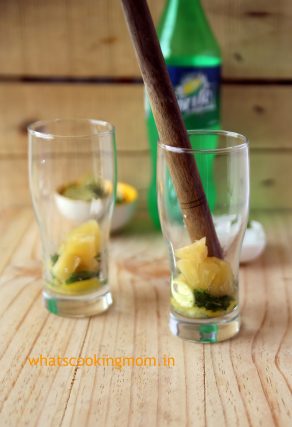 Add pineapple slices and press again lightly. Don't press too hard as we do not want to crush pineapple just release some of its flavor.
Add lots of ice to your glass.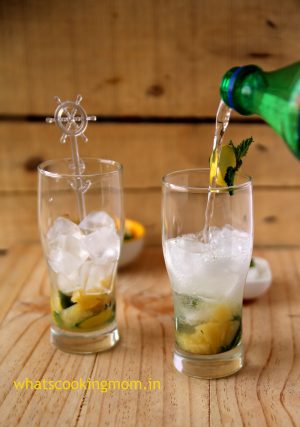 Pour sprite in each glass to fill the glasses.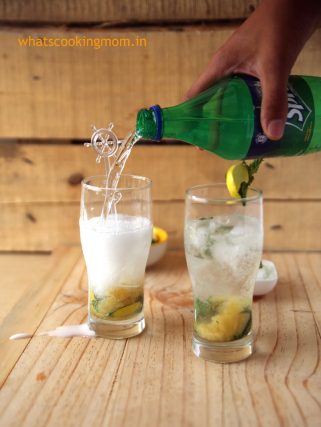 This is what happens when you get your too eager kids to pour sprite while you are busy clicking photos 😉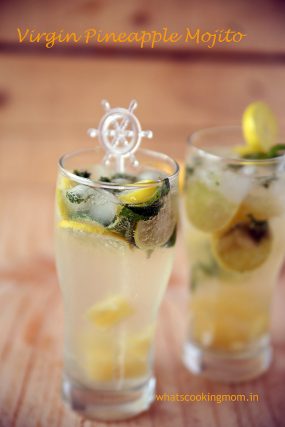 Grab your glass of virgin Pineapple Mojito and enjoy Summers 🙂