Acaraje – It is a popular Brazilian street food made from Lobia/black eyed peas. Acaraje is very yummy, healthy, nutritious and full of fiber. Although it is deep fried it is very light in texture.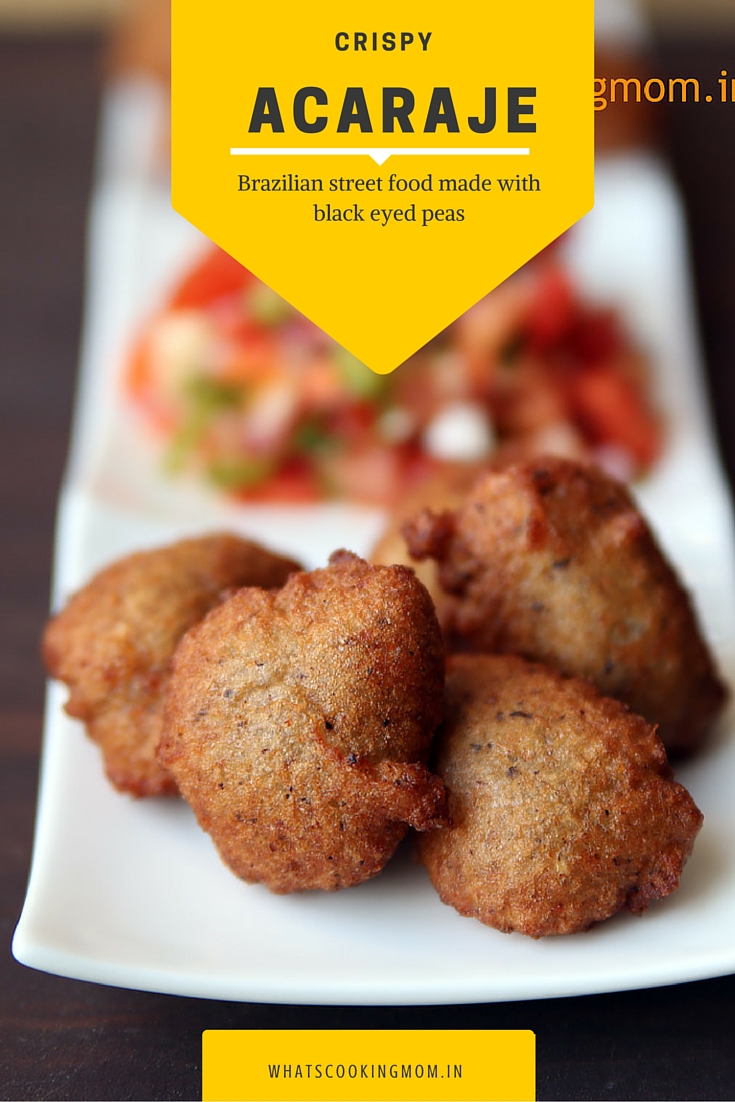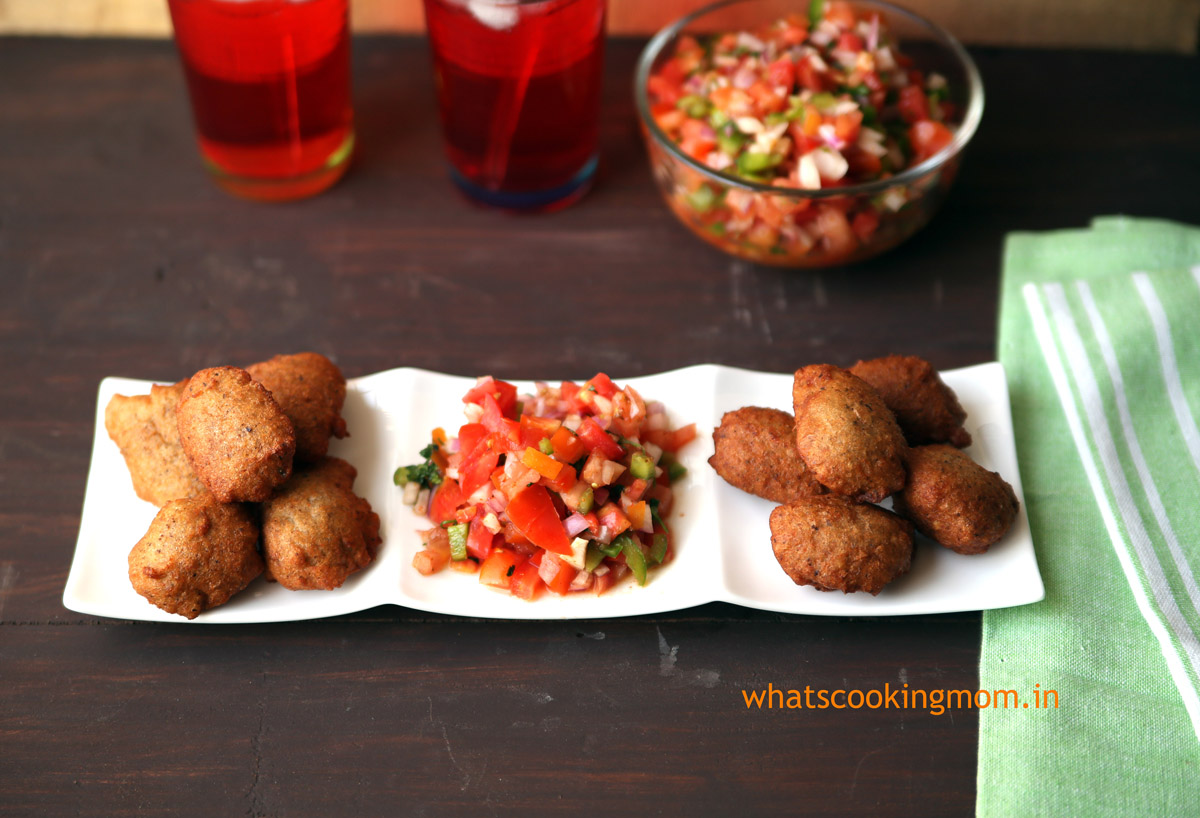 I have served them with tomato salsa which added more spice and flavor to this amazing dish. My family loved these fritters. We had them in the evening and then again at dinner wrapped in a roti with lots of salsa and salad just like falafel wrap. Blissfull!!!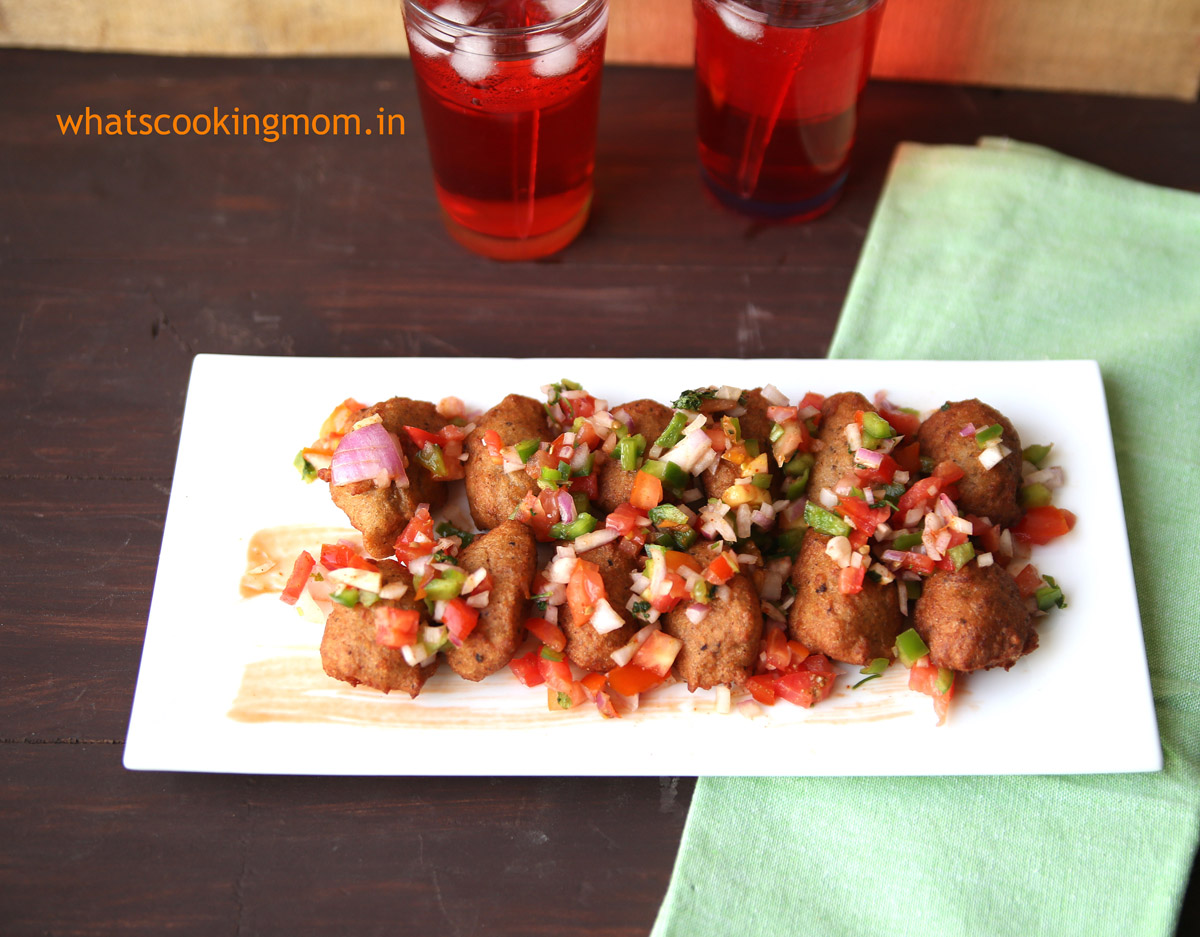 These are perfect snack or appetizer when you are entertaining also. As this deep fry quite fast and are very filling.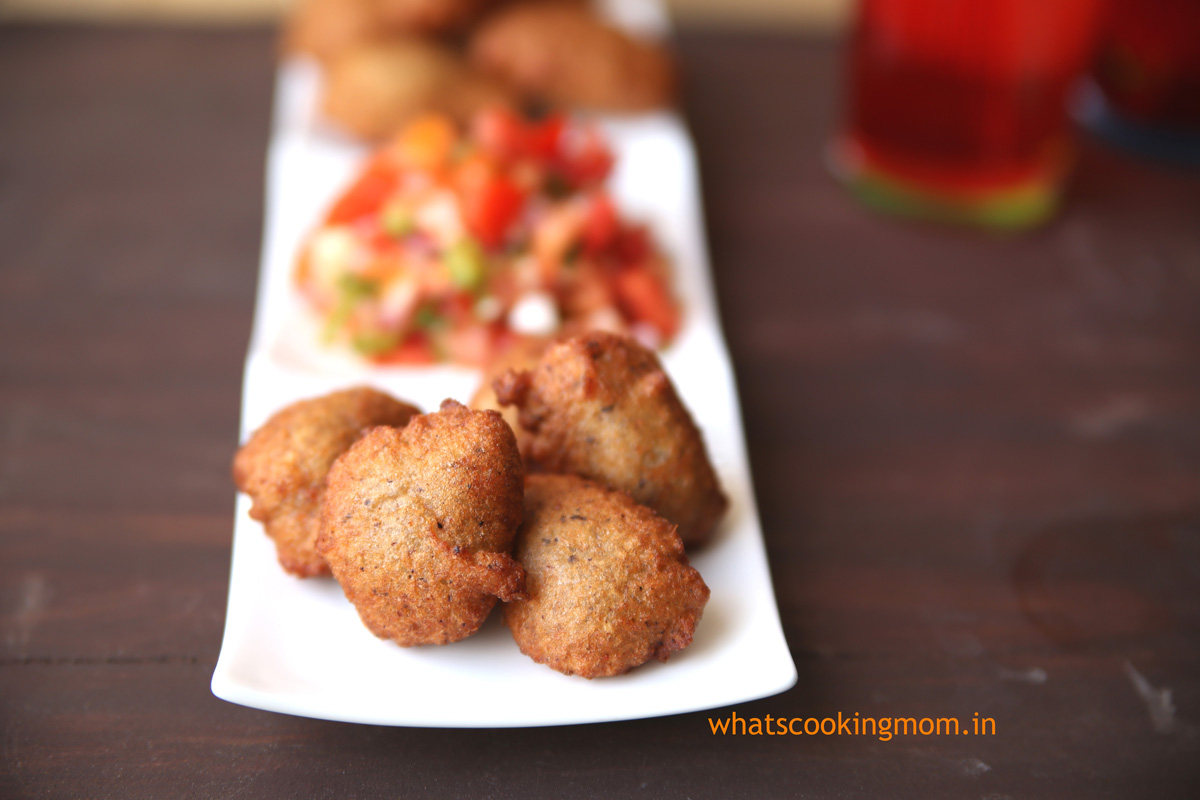 And we do not feel that guilty about eating fried food if its main ingredient is very healthy; Lobia in this case. If your kids do not like Lobia try these fritters. They will never realize they are eating Lobia and they would be asking for more. Mine do 😉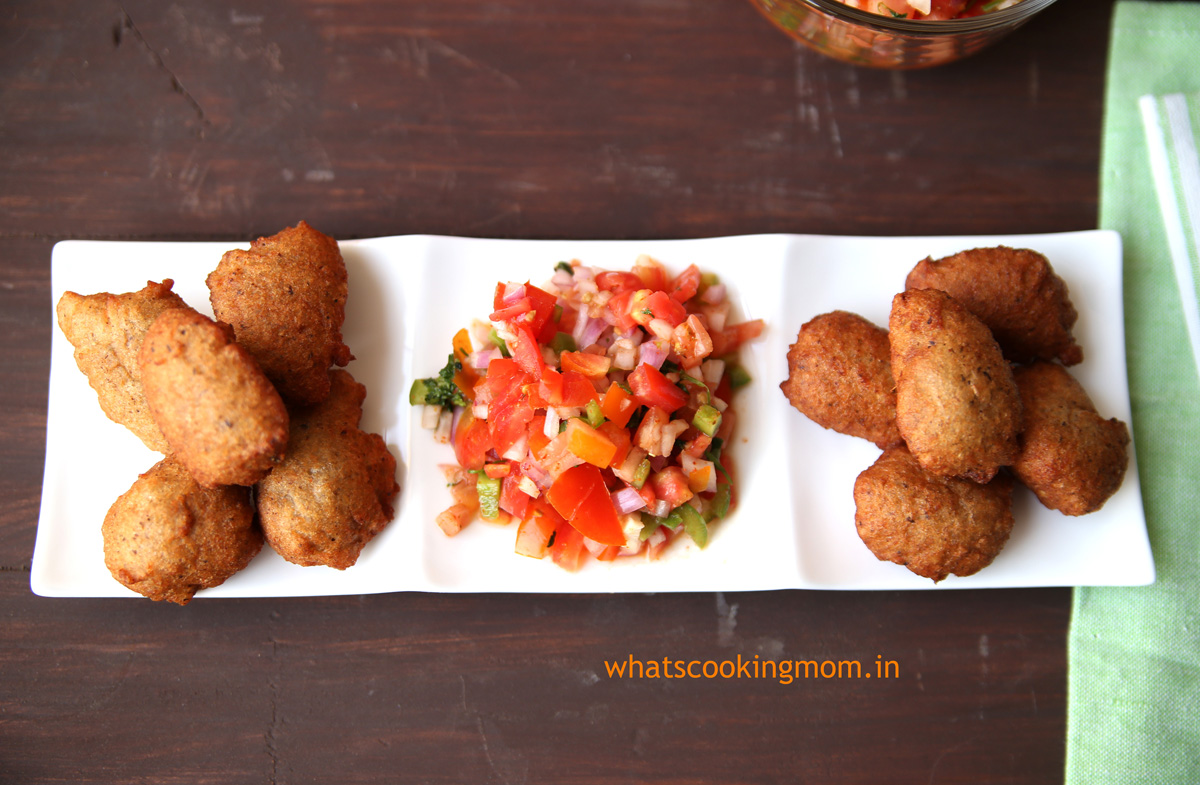 I saw this recipe 2-3 years back on Food Food channel and I have made these many times since then and they have always been loved by my family.
How to make Acaraje

This is a gluten-free, Vegan, Grain-free, refined sugar-free, high protein diet recipe.

soaking time: 5-6 hours
Preparation time: 5 minutes
Cooking time: 20-25 minutes
serves 2-4
Ingredients:
1 cup Lobia/ Black-eyed Peas (soaked for 5-6 hours)
2 medium sized Onions
4-5 cloves Garlic
1 tsp green chili chopped
¼ tsp red chili powder
¼ tsp black pepper powder
salt to taste
For tomato salsa
2 medium sized Onions
1 small capsicum
2 red tomatoes
1 tbsp coriander leaves
juice of 1 lemon
1 green chili
salt to taste
¼ tsp red chili powder
¼ tsp chaat masala
To make Acaraje
First, prepare Salsa
Finely chop Onions, tomatoes, green chilies, coriander leaves, and capsicum. Mix in a bowl. Add Salt, chili powder, chaat masala, and lemon juice. Salsa is ready to be served with Acaraje.
You can make Salsa 2-3 hours before you serve Acaraje and keep it in a fridge to cool. It is more flavorful if it is prepared 2-3 hours before serving.
For Acaraje
Drain the presoaked Lobia. it will be almost double in size then it was at the time of soaking.
Note: Traditionally Lobia is rubbed in hand to remove its peel and then it's ground. I have made these with both peeled and unpeeled Lobia and the only difference is in texture. There is not much difference in taste. So, this time, I have made Acaraje with unpeeled lobia. but if you want to make it with peeled Lobia then this is how it will look.
Grind lobia with onions, garlic and green chilies to a smooth fluffy paste.
You can make balls and fry them or you can try this method to give shape to Acaraje with the help of two spoons.
Fry them on low heat as they cook fast till they are golden.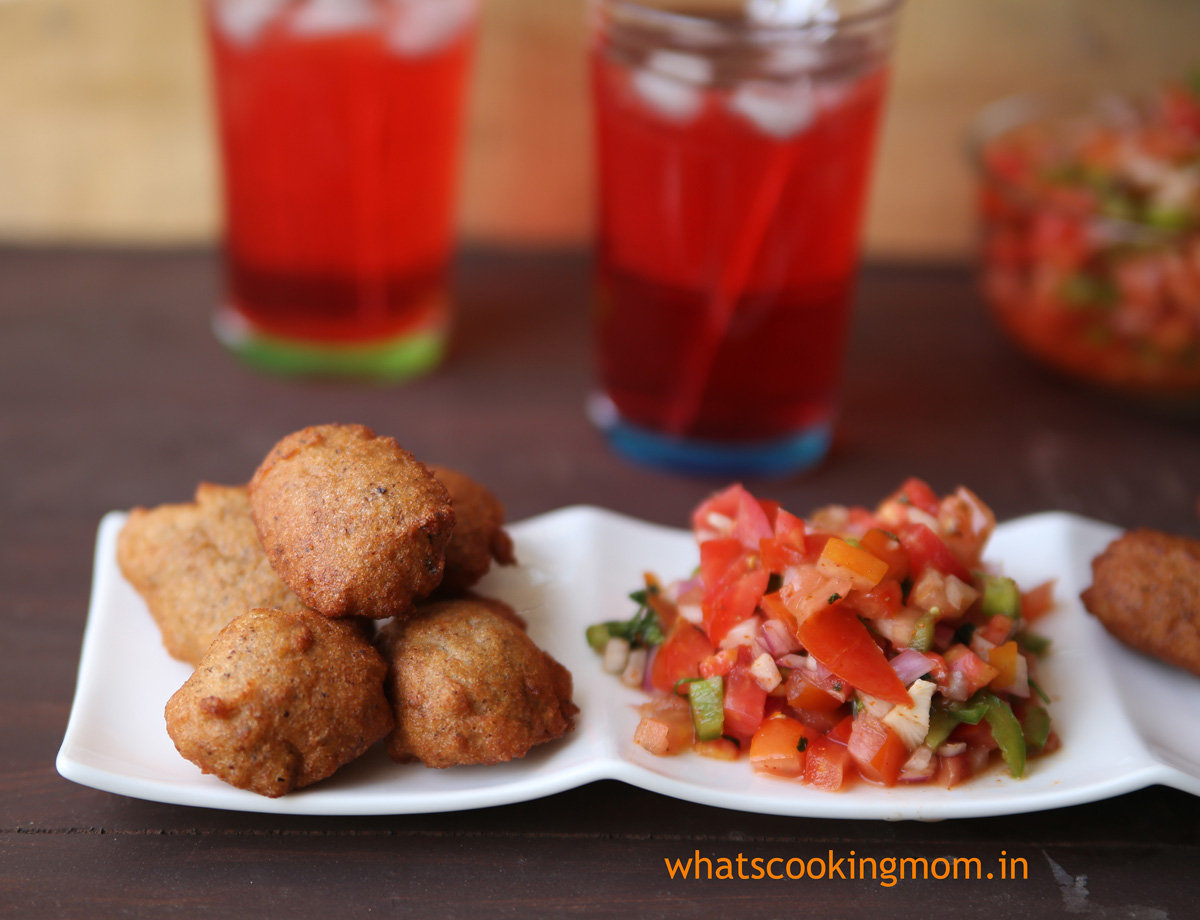 Serve hot with Salsa. You can also prepare them in advance and later on have like a falafel wrap.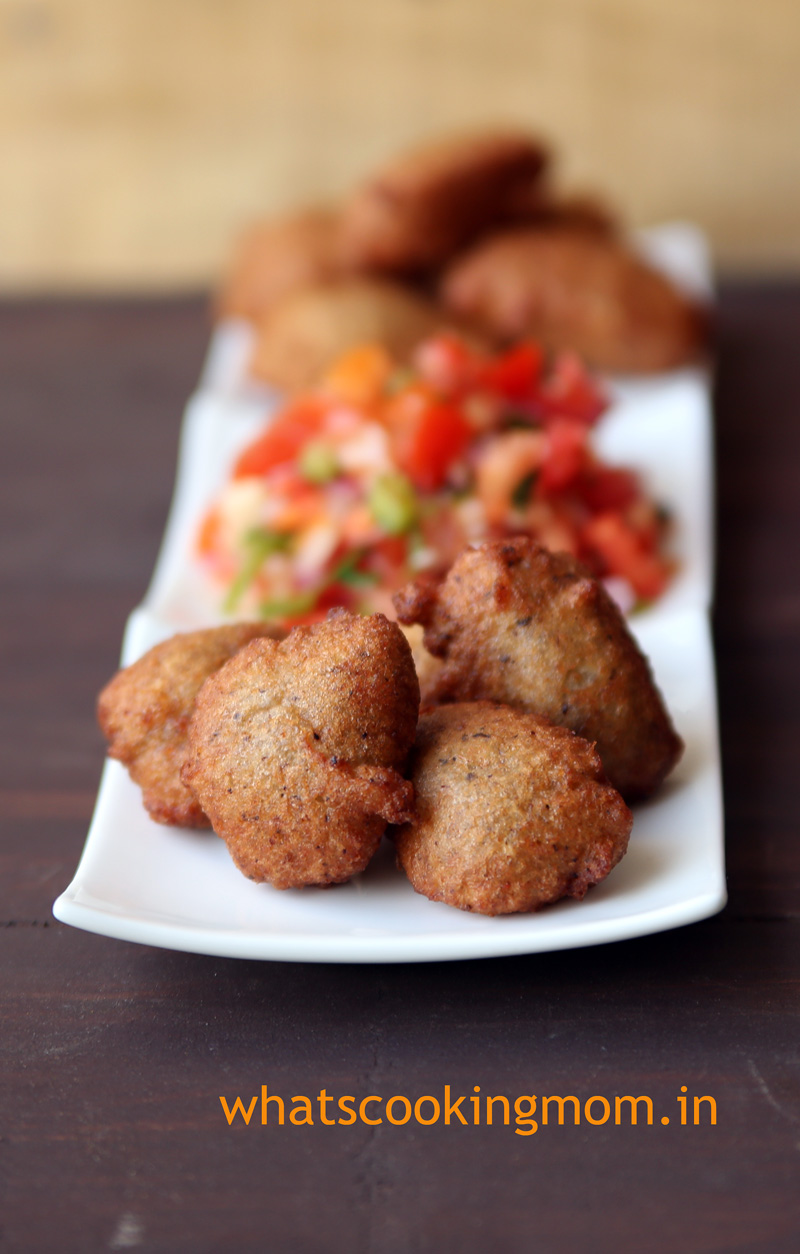 When you make this recipe don't forget to tag us on Instagram and Facebook or use this hashtag #whatscookingmom
You can share your pics with us on email also (whatscookingmom@gmail.com)
Pin it for future reference