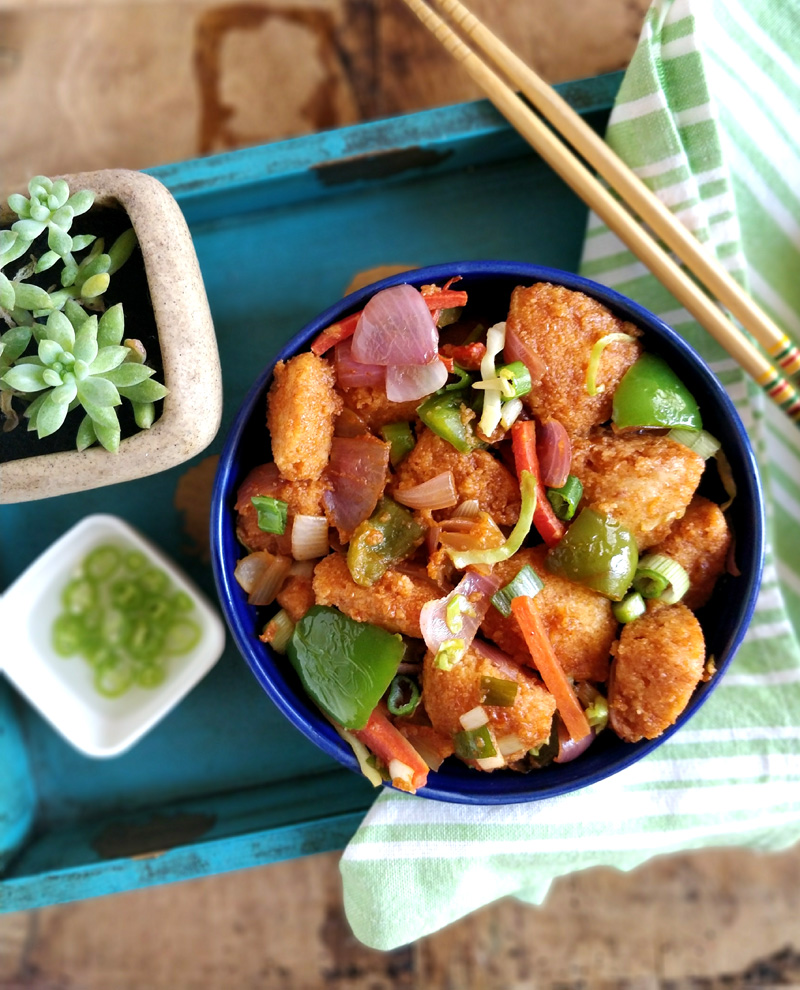 Chilli idli – Chilli Idli is one of the yummiest and healthy ( yes, I can say that about this recipe) snacks which not only serves as satisfying breakfast or yummilicious snack but also makes a perfect kids school lunch box snack. I have used here fermented rice Idli for this recipe but you can use Rava Idli also for this.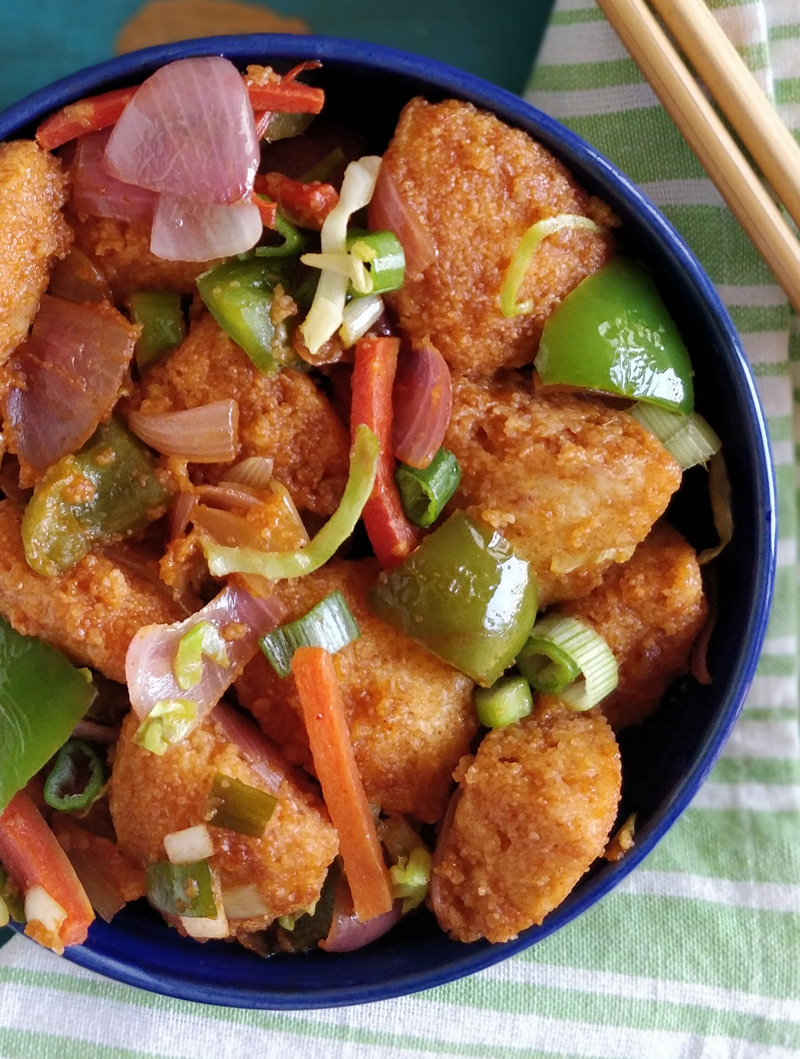 we all know the health benefits of fermented food. They promote the growth of healthy bacteria in our Gut, are probiotic, full of nutrients and easy to digest.
Idli that we make from soaking and grinding rice and dal and then leaving the batter to ferment and double in size is full of nutrition. This is one of my favorite fermented food. These not only boost our immunity, are easy to digest and are loved by the whole family.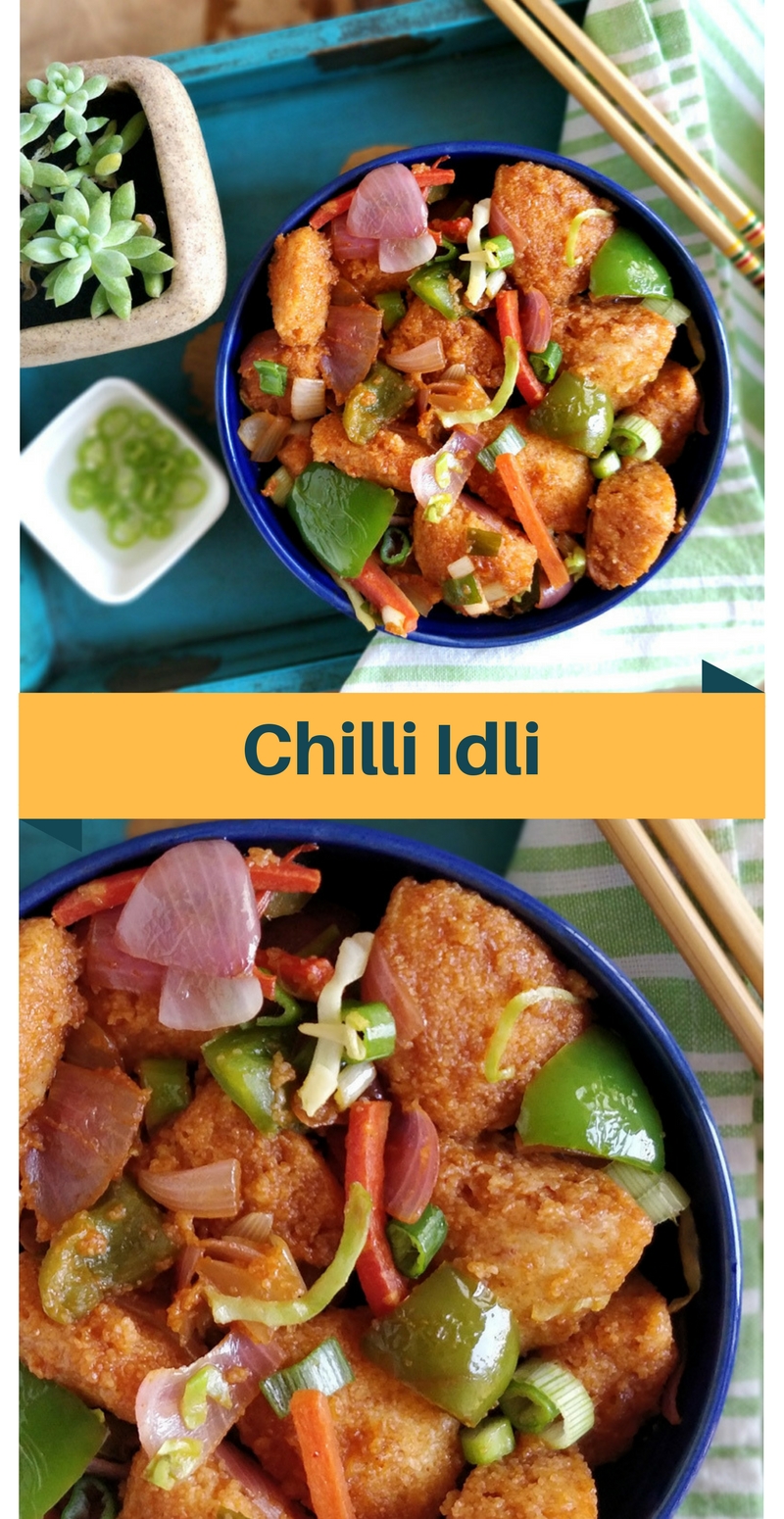 How to make Chilli Idli
Preparation time: 5 minutes
cooking time: 10 minutes
Ingredients:
5-6 leftover Idli
2 tbsp oil ( you can use olive oil or sesame/til oil)
1/2 Tsp chopped ginger
2 cloves of garlic chopped
1 green chilies chopped
2 onions sliced
1/2 capsicum cubed
1/2 carrot julienned
2 tbsp cabbage shredded
1 Tsp soya sauce
1 Tsp vinegar
2 tbsp tomato ketchup
1 tsp chili sauce ( Adjust this according to your taste)
salt to taste
2 spring onions (whites and greens) chopped for garnish
To make Chilli Idli
Cut each Leftover Idli into 4 or 6 pieces as per your liking. I have not fried or Sauteèed idli.
you can Sauté these idli pieces or fry them also if you want these to keep the firm shape. when I am making these for kids tiffin or our breakfast I don't bother and use Idli as it is.
Note: It is always better to keep idli in the fridge before using because this helps in keeping them firm.
In a thick Bottomed Pan heat oil. Add ginger, garlic and green chilies and Sauté for a few seconds. Now add onions and Sauté for a minute. Add rest of the veggies and cook for another minute. we want veggies partially cooked only so that they are crunchy.
In a bowl mix tomato ketchup, red chili sauce, vinegar, soya sauce, salt and mix well. Add this sauce mixture to the pan and cook for another minute.
all the idli pieces go in the pan. keep on stirring with a light hand so that all the idli pieces are coated with the sauces. Cook for 2-3 minutes. switch off the flame and add spring onion for garnish.
Tasty, Drool worth, healthy snack Chilli Idli is ready.