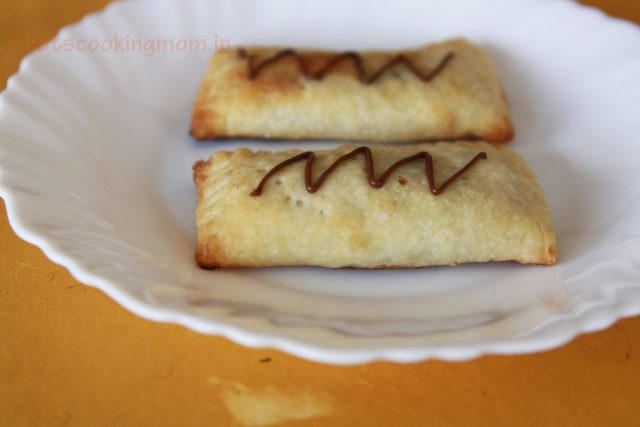 Nutella Pop Tarts – HAPPY VALENTINES DAY to all my friends and readers!!!
Hope this day brings happiness and love to all of you.
The first thing that comes to my mind when I think of valentine's day is chocolates. And the first thing that comes to my mind when I think of Chocolates is Nutella. These Nutella pop tarts are very easy to make and do not require much effort (hmm..magic words ;-)). All you need is pie dough and Nutella.
I have used the dough recipe from my Apple Pie. Just roll the dough, cut the shapes, fill Nutella and bake. There is hardly any scope for going wrong. We can even take the help of our kids. My kids helped in cutting rectangles, crimping edges with a fork and in decorating Nutella pop tarts. All of us had a lot of fun. Well, there are not many recipes which can boast of giving you as much pleasure in making them as in eating them. Wow, that was a perfect start to an amazing day.
How to make Nutella pop tarts
Preparation time: 15 minutes
Cooking time: 30 minutes
makes 16 pieces
ingredients:
1 ½ cup plain flour (maida)
¼ cup powdered sugar
¾ cup unsalted butter
2-3 tbsp cold milk
and
Nutella
To make Nutella pop tarts

Sift the flour into a mixing bowl, add powdered sugar and rub in the butter using your fingertips till it resembles bread crumbs. Add some cold milk and gently knead it into a firm dough. Cover it and refrigerate for 30 minutes.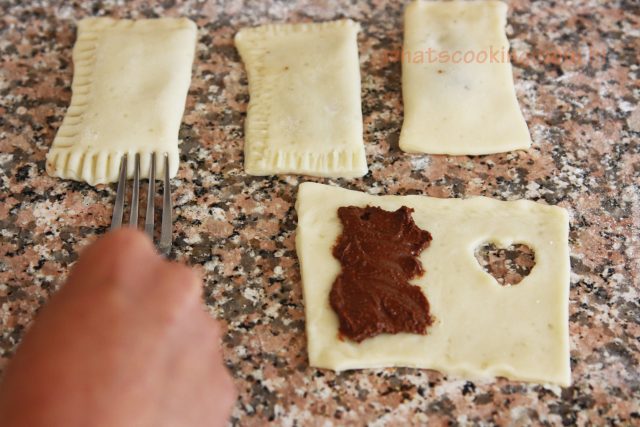 On a well floured surface roll dough into a rectangular shape. Using a pizza cutter or sharp knife cut rectangles or squares. You can also use a heart shaped cookie cutter to cut heart shapes.
Now spoon 1-2 tbsp of Nutella on one side taking care to leave edges clear. Cover with the other side and press the edges with hand. Use a fork to seal the edges and to create vent holes. Refrigerate for 15 minutes.
Preheat the oven to 180 c. Remove tarts from the fridge and brush the top with butter. Place pop tarts on a greased baking tray and bake for 12-15 minutes until golden brown.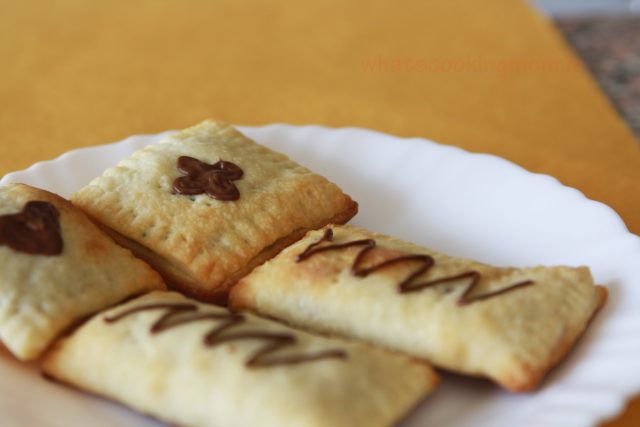 Fill melted Nutella in a plastic ziplock bag and cut a small bit of corner. Use this piping bag to decorate Nutella pop tarts to your liking. You can take help of your kids at this stage as they love to use the piping bag.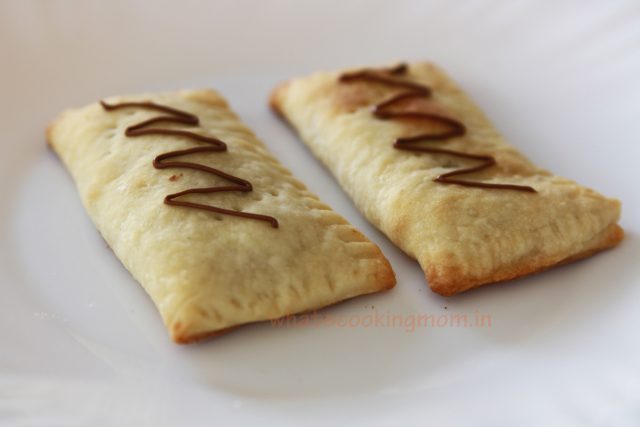 Serve warm. These tarts taste best when fresh. We can keep them for 2 days and microwave them before eating.