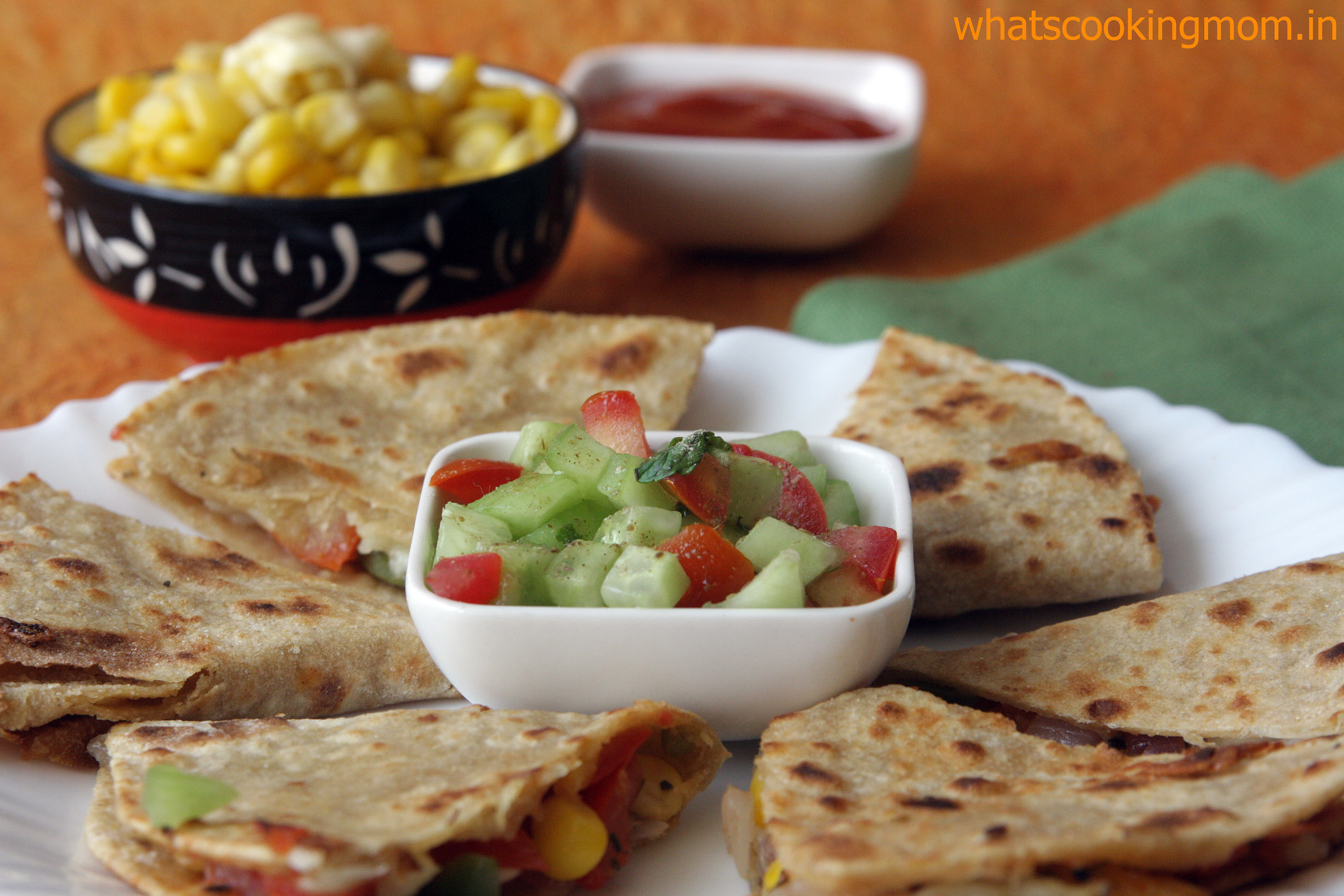 Quesadilla is a Mexican dish (pronounced key-suh-dee-uh) generally made with corn tortillas filled with vegetables and cheese. I have made these with wheat flour roti that we eat daily.
My kids love to eat vegetable quesadilla and I don't mind making these for them.
First of all, I am using whole wheat flour rotis/ tortillas. Then I do not add a lot of cheese and you can add a variety of vegetables of their choice. What is left to complain? Even my kids know that I might say no to pizza but I will not say no to vegetable Quesadilla. And with the vegetables, we have used it tastes a lot like pizza. A healthier alternative to pizza.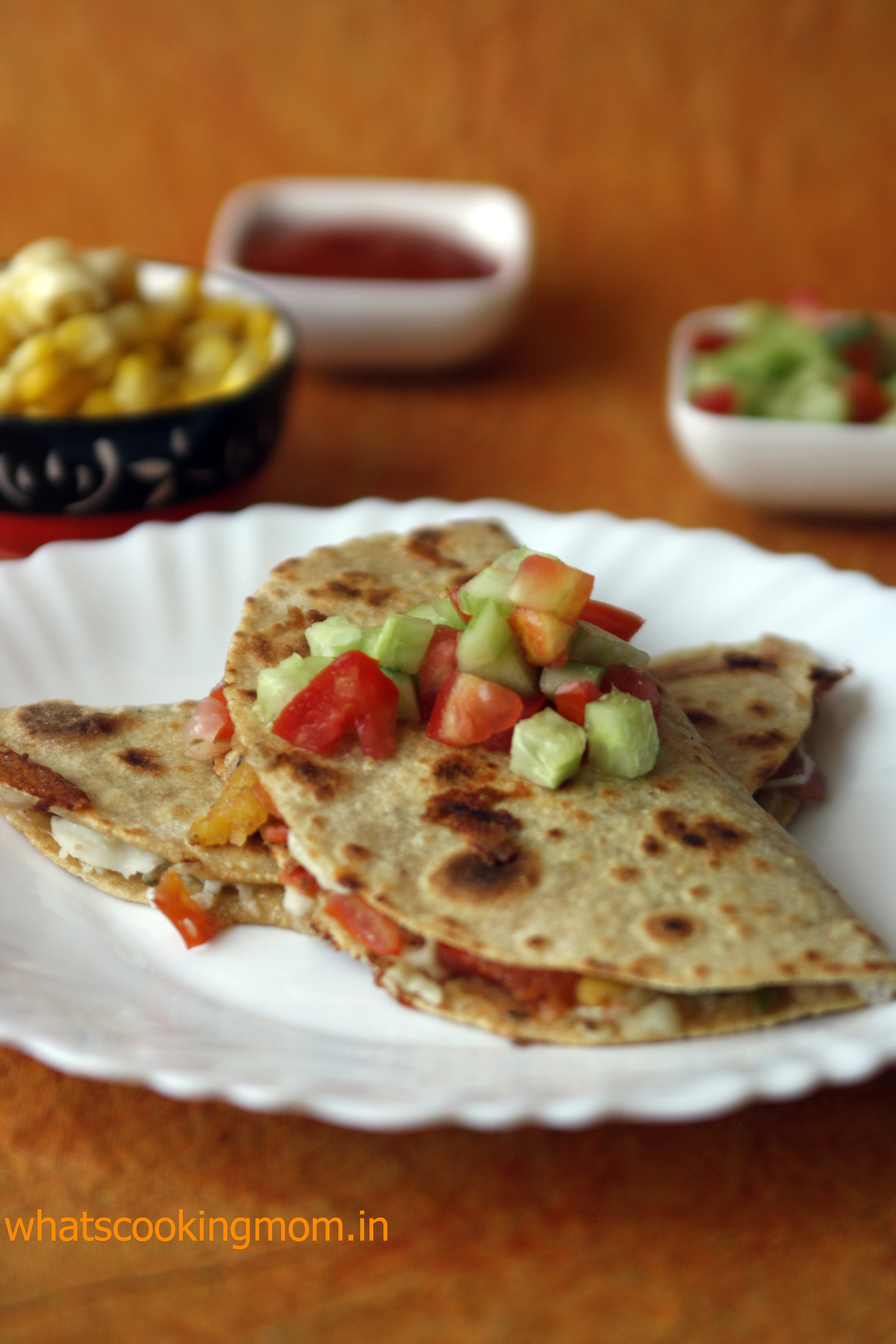 Be prepared to make extra roti/wraps for your kids because they might be eating 2 rotis daily but with this recipe, they will be definitely asking for more.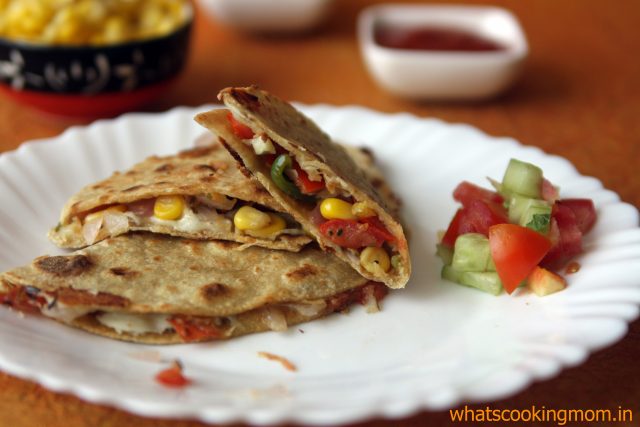 How to make Vegetable Quesadilla
Adapted from Tarladalal.com
Preparation time: 10-15 minutes
cooking time: around 15 minutes
makes 4 vegetable quesadillas
Ingredients:
For the roti/tortillas:
1 cup whole wheat flour
Salt to taste
water
For vegetable Stuffing:
2 onions chopped
1 capsicum chopped
1 tomato chopped
¼ cup sweet corn boiled
¼ cup pineapple chopped (I have used fresh pineapple but you can use canned pineapple too just wash off the syrup)
1 tbsp olive oil
¼ tsp black pepper
¼ tsp oregano
salt to taste
¼ tsp chaat masala
100 grams grated mozzarella cheese
to make Vegetable Quesadilla
Make a soft dough of whole wheat flour with water and leave it covered for 10 minutes. Divide into 4 equal portions.
Heat oil in a pan. Sauté onions for 2 minutes. Add capsicum and tomatoes and cook for another 2 minutes. Switch off the flame. Add boiled corn, pineapple pieces, salt, pepper and oregano, and chaat masala. Mix the vegetables and spices thoroughly.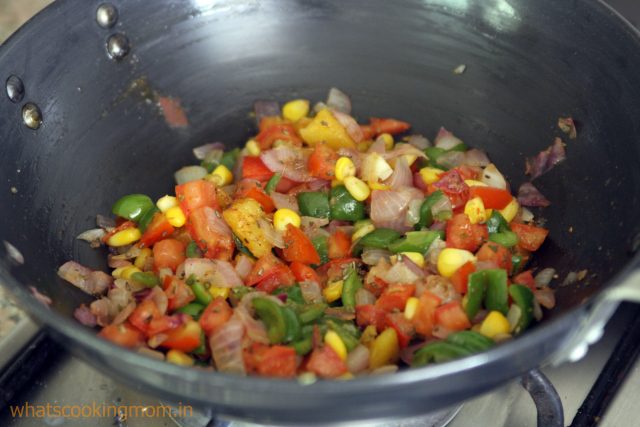 Roll out each portion of dough as thin as you can using rolling pin with the help of little whole wheat flour. Cook one side lightly on tava/griddle.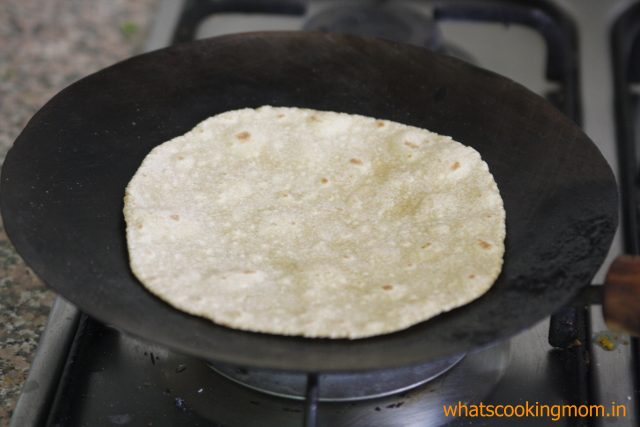 Flip over and while another side of roti is cooking, spread vegetable mixture on half of it.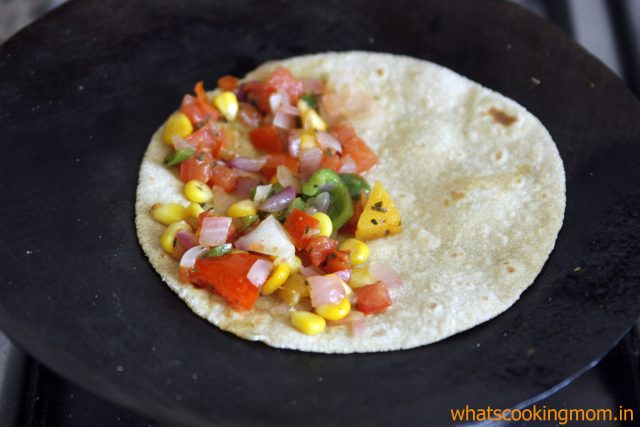 Spread cheese evenly over vegetable mixture.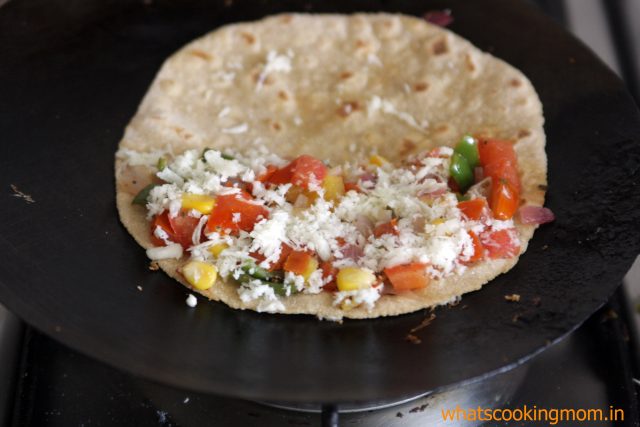 Fold the roti in half into a semicircle and press it lightly with a spatula.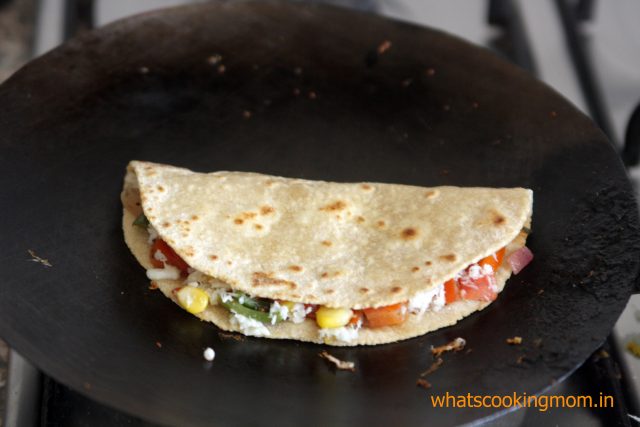 The cheese will start melting as cook the quesadilla from both sides. You can apply a little oil to cook it uniformly.
serve hot.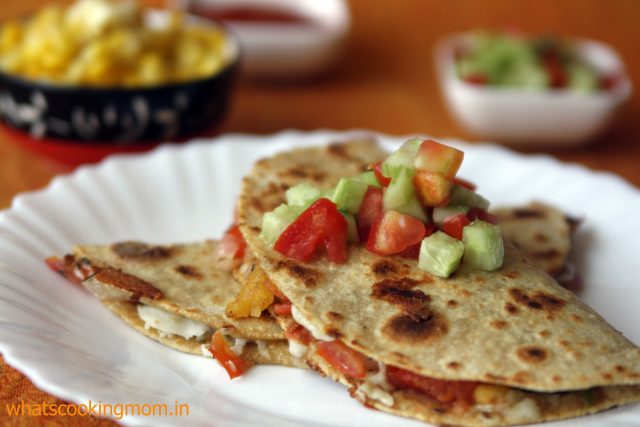 When you make this recipe don't forget to tag us on Instagram and Facebook or use this hashtag #whatscookingmom
You can share your pics with us on email also (whatscookingmom@gmail.com)