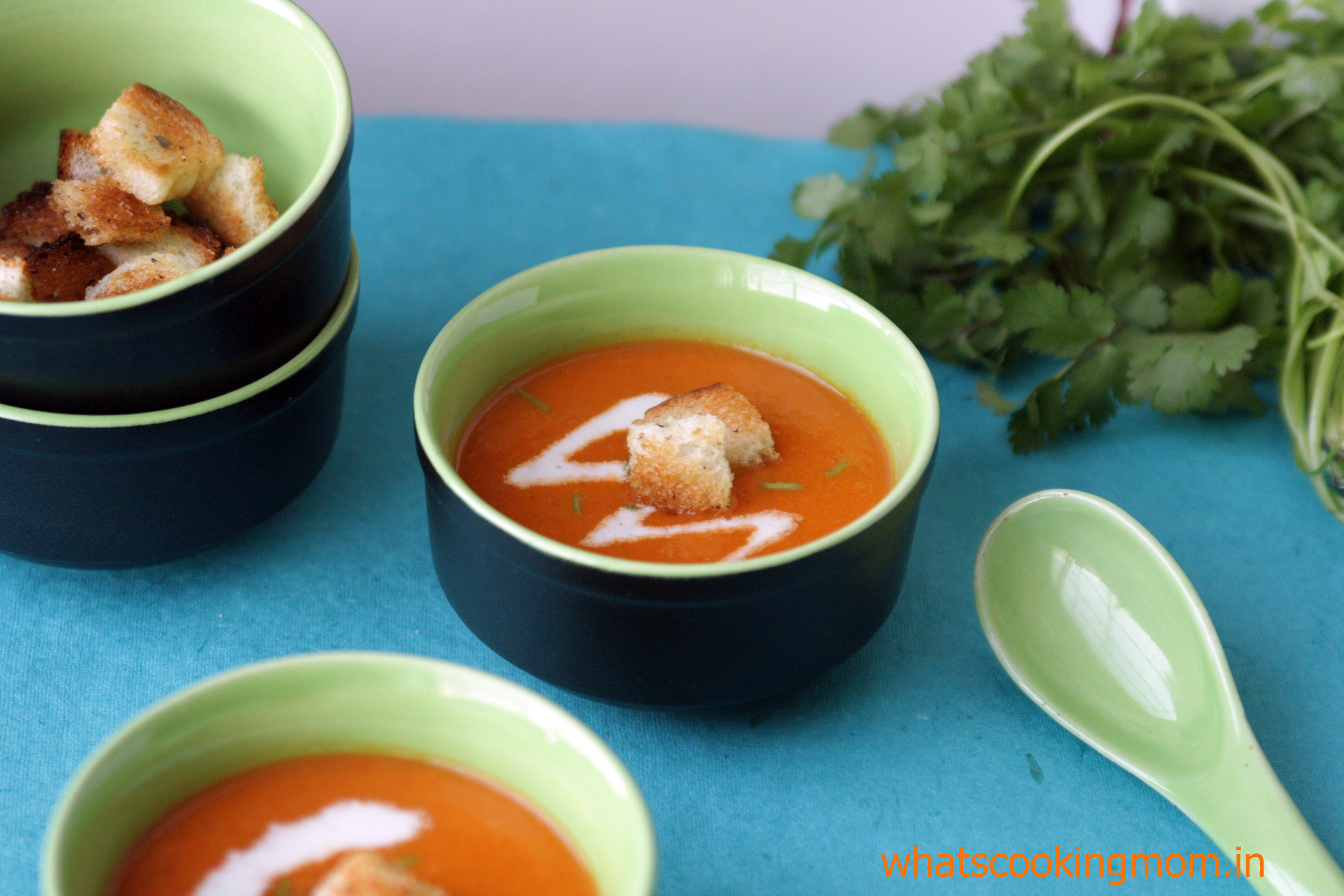 Roasted tomato soup with Croutons – I have been thinking of making Roasted tomato soup for quite some time. Rajasthan known for its scorching heat in summers could be really cold in winters. Though winters are a little late this year when it comes soup is a must in our house in evenings.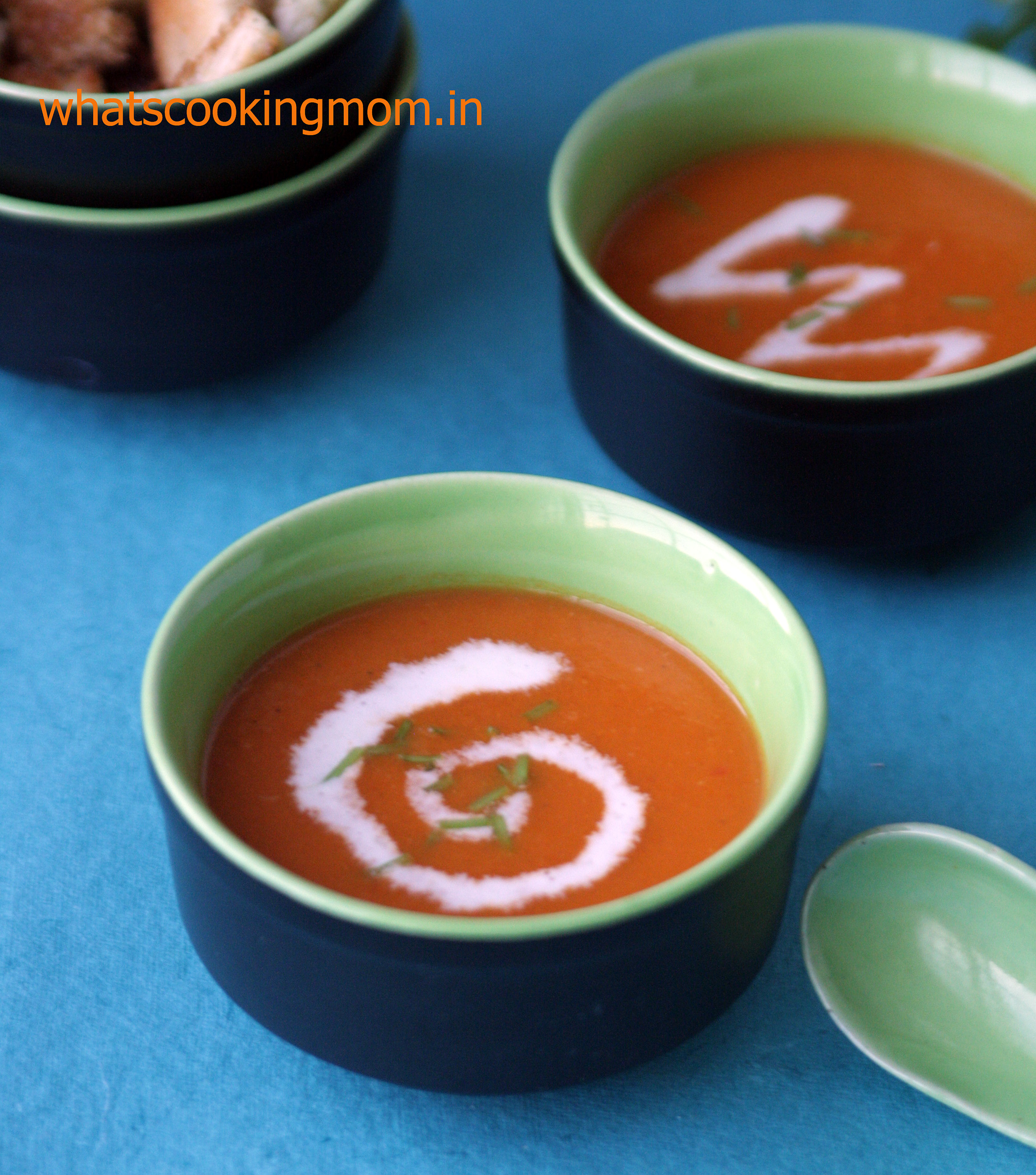 I generally make mix vegetable soup or plain tomato soup but my elder son does not drink that at all. So I tried this soup for him. The smell of tomatoes roasting is Awesome. The whole house smelled so nice. I think this prompted him to try this soup. Addition of croutons to the soup also helped a lot. 🙂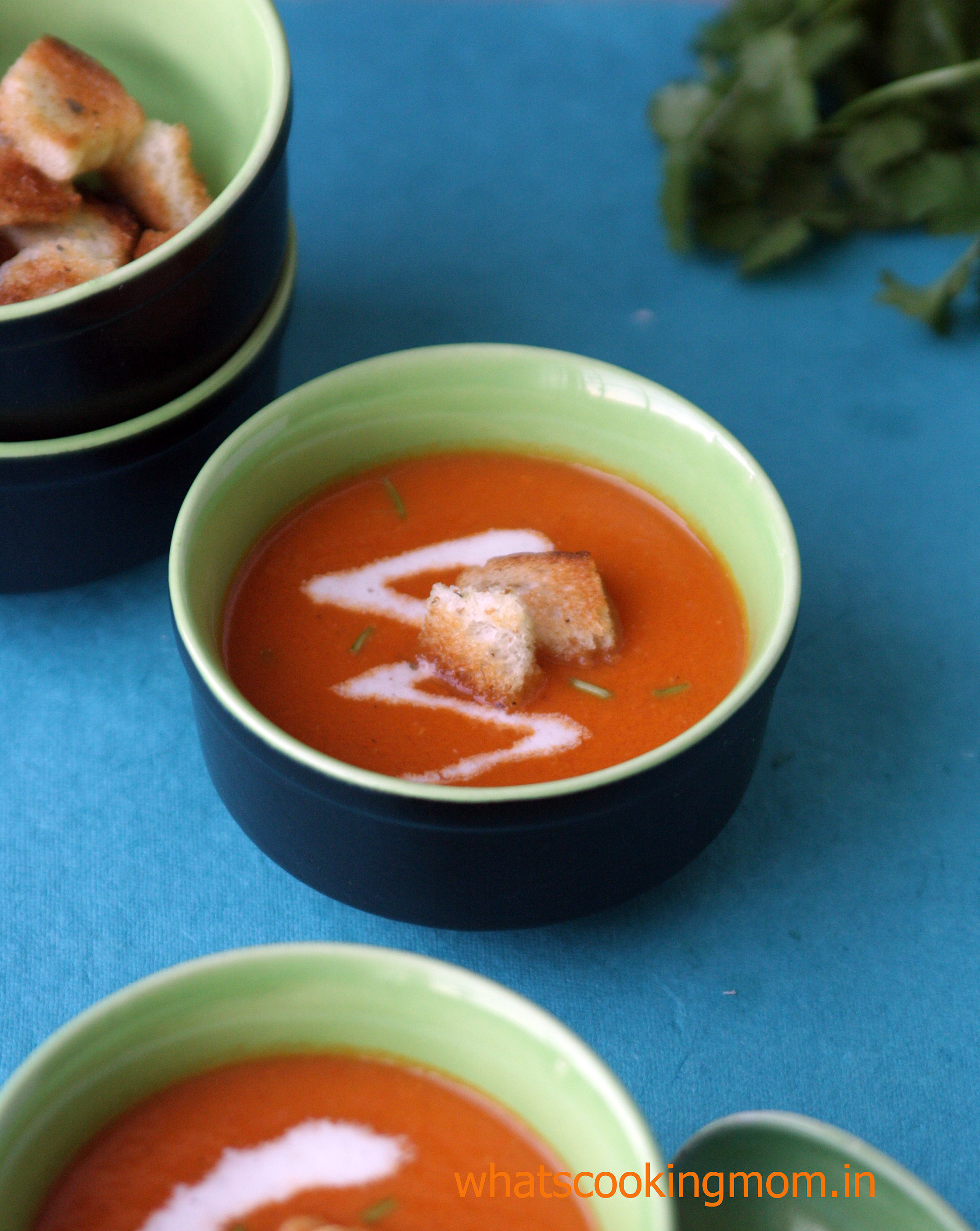 There is a very mild flavor of onion and garlic which really adds up to its taste. Croutons have been baked in oven and we can use whole-wheat bread also for them instead of white bread to make them healthier.
How to make Roasted Tomato Soup
Adapted from: Sandraseasycooking.com
Preparation time: 2 minutes
Baking time: 20-25 minutes for soup and 15 minutes for croutons
makes around 3-4 cups depending on consistency
Ingredients for Roasted tomato soup:
4 tomatoes
2 onions
4-5 cloves garlic
2 tbsp olive oil
salt and pepper to taste
Ingredients for croutons:
4 bread slices
1/4 tsp salt
1/4 tsp black pepper
2 tbsp olive oil
1/4 tsp oregano
To make Roasted Tomato Soup
Preheat the oven on 220 C for 10 minutes.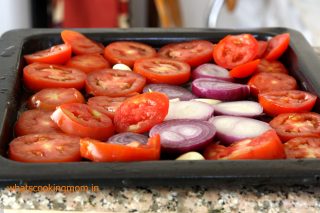 Arrange garlic, tomato and onion slices on the baking tray in single layer.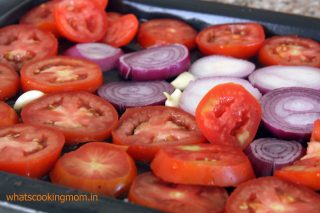 Drizzle with olive oil and sprinkle salt and pepper on the slices.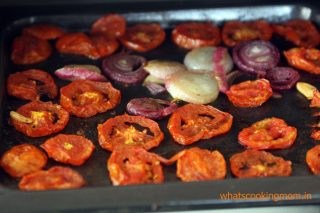 Roast in oven for 15 minutes. After 15 minutes turn over the slices and roast for another 10 minutes.
Let the roasted tomato cool down. Puree in your blender the roasted slices with all the olive oil from the tray. After blending pass the soup through a sieve/ strainer.
Shift the soup to a pan and give it a boil. Simmer for 10 minutes. Add water to get the desired consistency.
Serve hot with Croutons.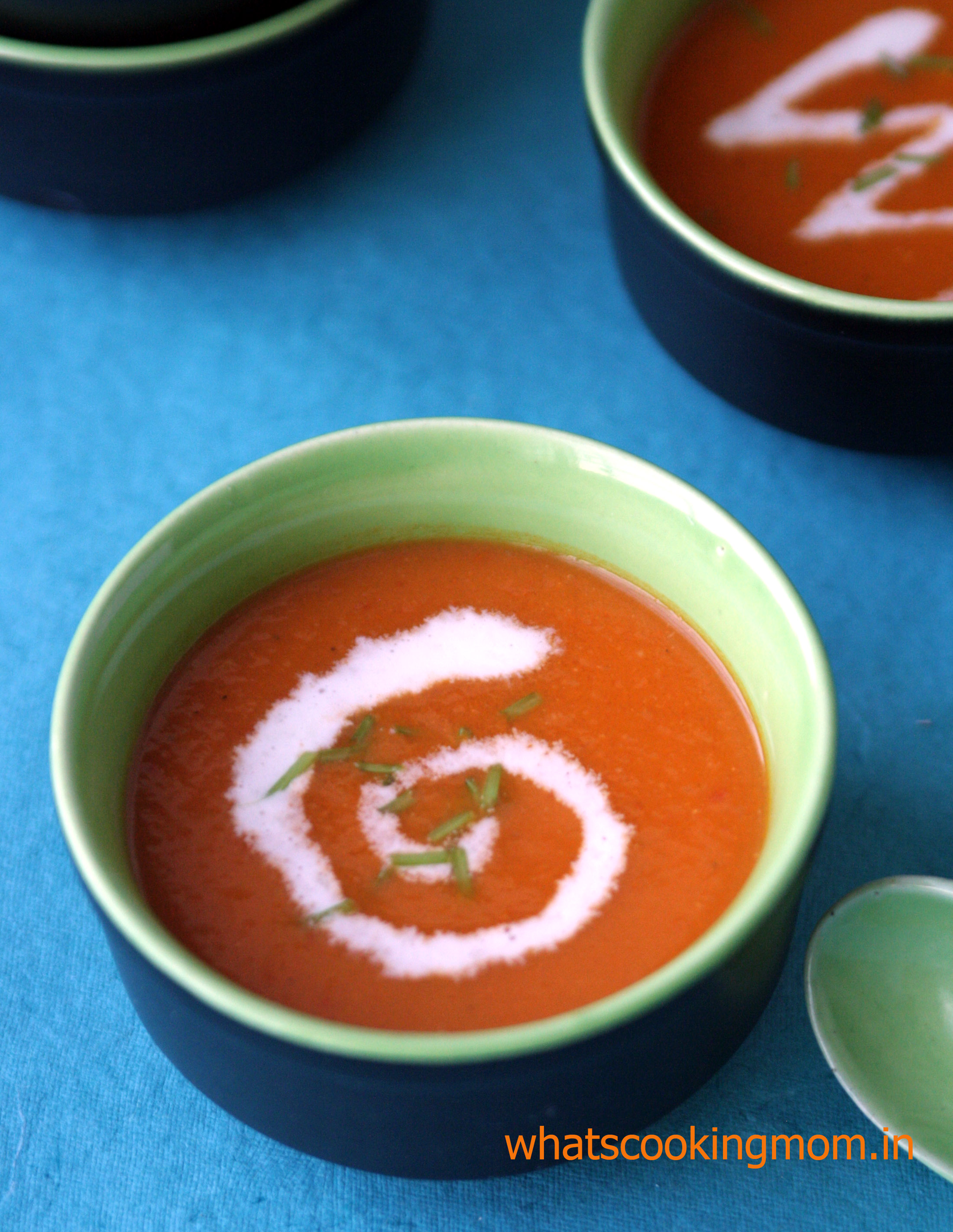 Cut bread slices in cubes.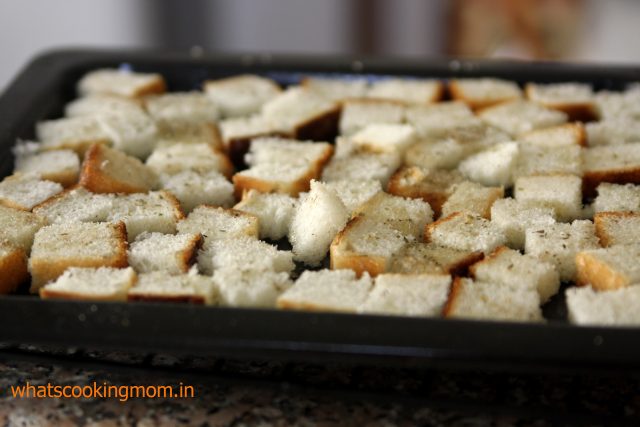 Add salt pepper and oregano to olive oil. Toss the cubes in olive oil and spread on the baking sheet in an even layer.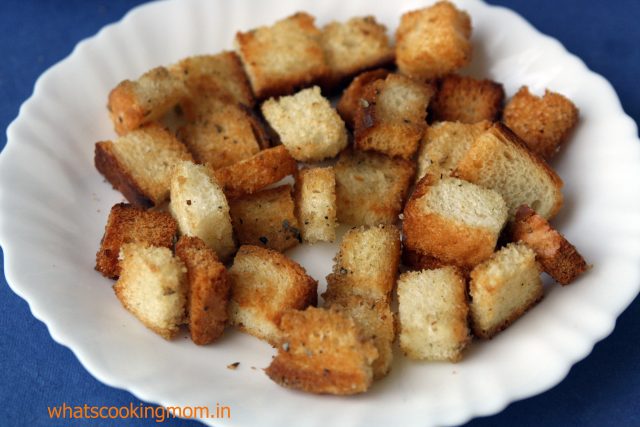 Bake the cubes at 200 C for 1o minutes. Take out of the oven and turn the cubes. Bake for another 5 Minutes. Croutons are ready.
Take them out of the oven and let them cool down. Store in an air tight container.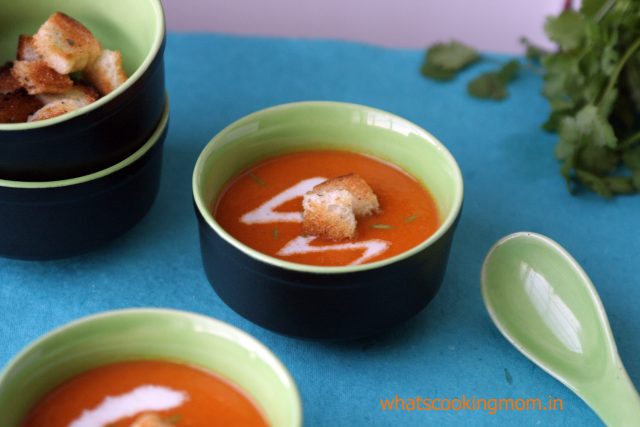 When you make this recipe don't forget to tag us on Instagram and Facebook or use this hashtag #whatscookingmom
You can share your pics with us on email also (whatscookingmom@gmail.com)