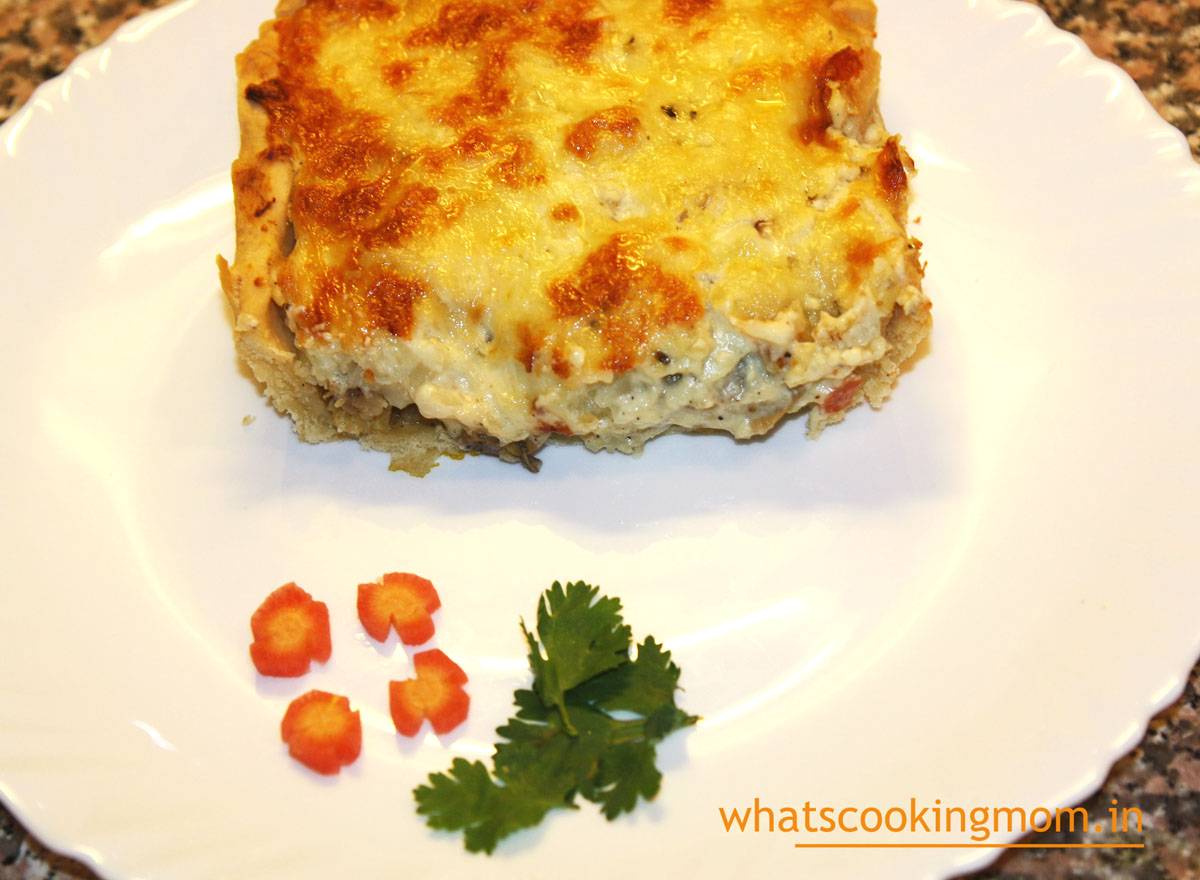 My son, a little smart for his 9 years, pointed out to me that I have started this blog to try out new recipes. He had a point and my husband, not to be left out in such issues, joined him. A list of many delicious foods was jotted down and it was decided that I will try some new recipe.
The question was which one to try out first. You know me!! I cannot be kept away from vegetables for long so the first thing that came to my mind was Vegetable pie or Vegetable Quiche and why not?
I know how to make apple pie so pie crust is not a problem. I know how to stir fry vegetables, how to make the white sauce so even that will not be a problem. Then just top it with some cheese and pie will be ready. What could be a safer bet than this? And I was right.
The second my son returned from his basketball coaching, he was sniffing the air with "I know you have made something special!" look on his face. If you have a taste for stir fry vegetables and white sauce then this is the recipe for you.
How to make a Vegetable pie with white sauce
Preparation time:20 minutes
cooking time: 40-50 minutes
serves: 2
For pie:
¾ cup plain flour ( maida)
¼ cup butter
¼ tsp salt
cold water
For stir fry:
1 onion chopped
1 cup diced cauliflower and carrots
1 cup diced capsicum, mushrooms and baby corn
salt and pepper to taste
For white sauce:
2 tbsp butter
2 tbsp plain flour( maida)
2 cups of milk
salt to taste
¼ tsp pepper
¼ tsp oregano
40-50 grams mozzarella cheese for baking( just enough to cover the pie)
For the vegetable pie:
Sieve together flour and salt. Add butter and mix with your fingertips till the mixture is crumbly. Knead the dough with a light hand using cold water as required. The dough should be shiny and soft to the touch. Refrigerate it for 30 minutes.
In the meantime boil cauliflower and carrots in salted water. They should be firm but tender. Drain well.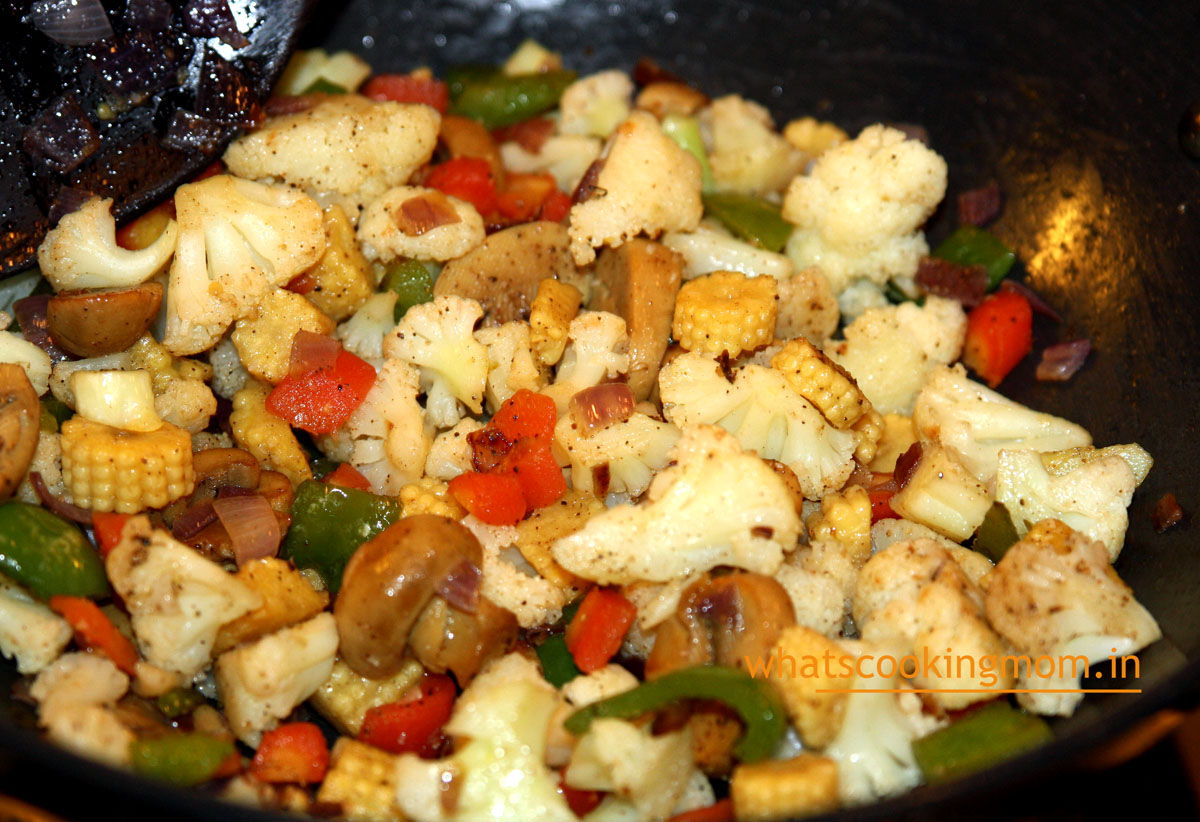 Sauté onions, capsicum, mushrooms and baby corn in a pan until tender. I used canned mushrooms and baby corn so they were ready in 2 minutes. Add boiled cauliflower and carrots and cook for 2 minutes. Add salt and black pepper to vegetables.
For white sauce, melt butter in a heavy-bottomed saucepan over low heat. Add plain flour and mix thoroughly. Keep stirring for 2 minutes over low heat. It should not turn brown. Add milk slowly and keep stirring over medium heat till the mixture is thick. Switch off the flame and add salt and pepper.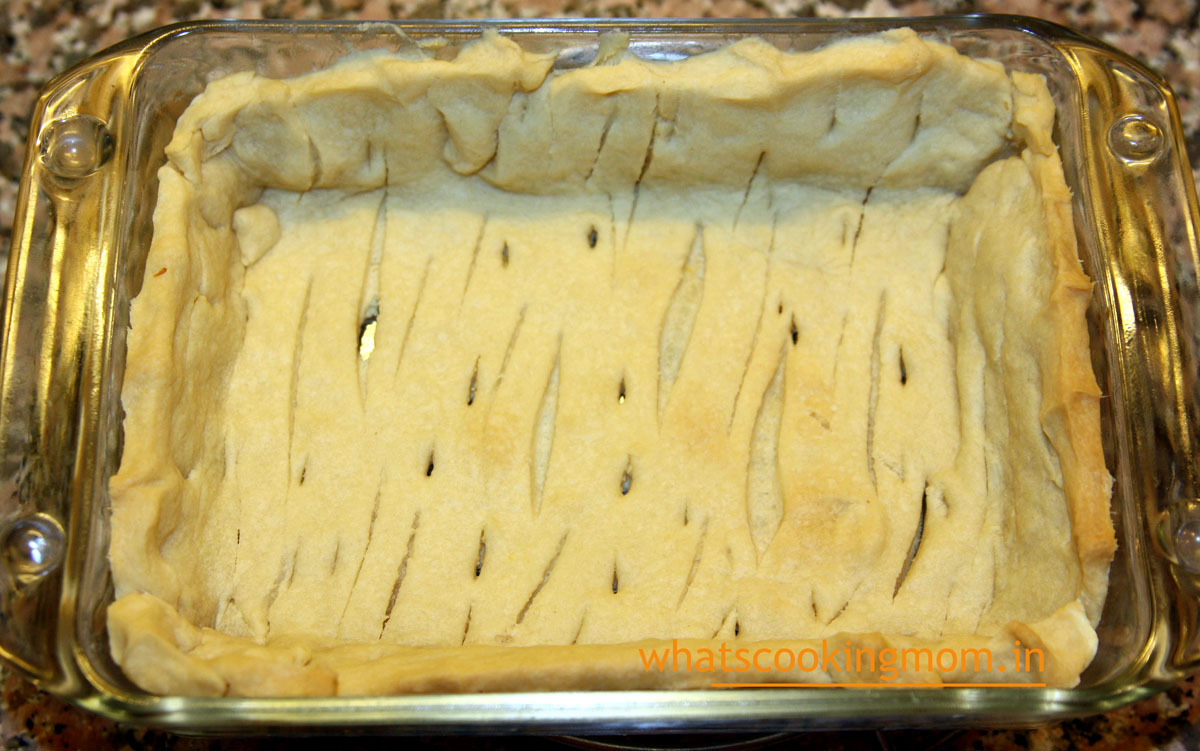 Roll out dough according to the size of your baking dish. Prick with a fork all over. Now spread out in a greased baking dish and pre-bake for 15-20 minutes or till light brown.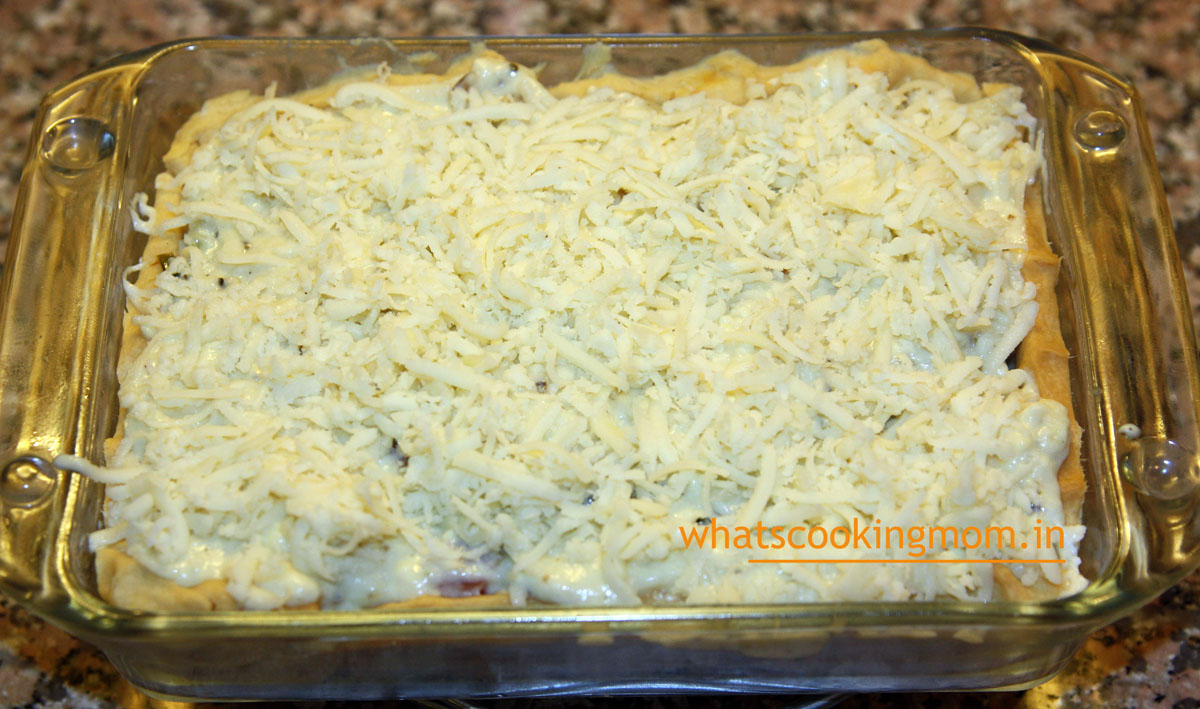 Now spread vegetables over pie crust and spread white sauce evenly. My family loves white sauce so I usually spread a thick layer but if you want to keep it light you can use white sauce sparingly in this recipe. Spread mozzarella cheese over the white sauce and dot with butter.
Bake vegetable pie uncovered for 20 minutes at 180 C or till cheese turns light brown.