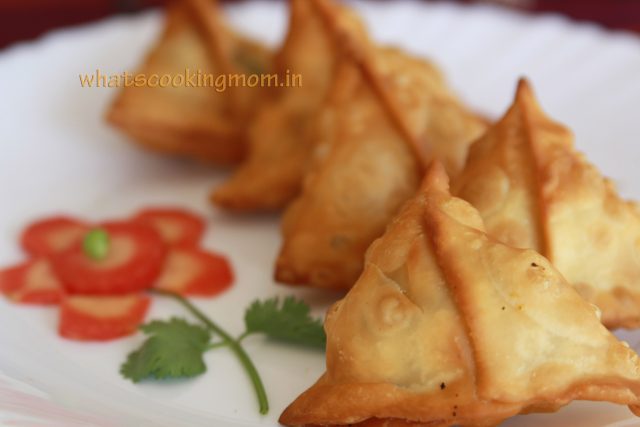 Samose – An amazing indian snack filled with spicy potato mixture and nuts. Samose are the most popular tea time snack of all Indians. Whether its a college canteen or office mess these are the most sought after snack at breakfast and tea time.
These are the most desired breakfast item in our home on sunday mornings when everybody is lazying around and is not in a hurry for breakfast. Especially in winters when fresh sweet peas are available. This Sunday when i asked my family what they wanted for breakfast answer was unanimous.
Generally we prefer to avoid fried food but there is no rule in world that can not be bent for having samosas on a cold sunday morning. So here we are with the samosas.
How to make spicy aloo matar Samose:
Preparation time: 20 minutes
Cooking time: 30 minutes
makes 16-18 pieces

Ingredients:
For the wrapper
1 ½ cup maida( plain flour)
1 tsp salt
2-3 tbsp oil
1 cup water for kneading
For the filling
4 medium sized boiled potatoes
½  cup peas
1 tsp minced green chillies
1 tsp grated ginger
2 tbsp oil
½ tsp fennel seeds
½ tsp red chilli powder
½ tsp garam masala
½ tsp amchoor( raw mango powder)
salt to taste
½ cup chopped nuts( cashewnut, raisins)
coriander leaves to garnish
For frying
Oil for deep frying
To make samosa dough
In a wide bowl mix flour and salt. Make a well in the centre to put oil. Mix well. Take small portions of flour in your hands and rub your palms.To make sure oil is mixed well, hold the flour in your fist and press lightly.  It should hold itself together.

Add water in small portions and keep mixing the flour to get a tight dough. Knead it for another 5 minutes till the dough is smooth. Dough for samosas should be tight. Cover the dough and let it rest for 10 minutes.

To make the filling
Chop the boiled potatoes. Heat oil in a pan. Add fennel seeds. When they start to crackle add green chillies and ginger. Now add peas, salt and red chilli powder.
Once peas are soft add chopped potatoes, nuts, garam masala and amchoor. Let it cook covered for 2 minutes. Switch off the heat and add fresh coriander leaves. Cool the mixture before filling in the samosa wraps.

How to make samose
Roll the dough using a rolling pin into a circle or oblong shape. I make mine wraps oblong as oblong shape is good for making cones. Cut the wrapper in half. Make a cone using water to seal the edges.
Fill two spoons of filling in the cone. Take care to keep the  joining line in the centre. Now seal the top edges with water and press lightly with your fingers. repeat the same process with remaining dough.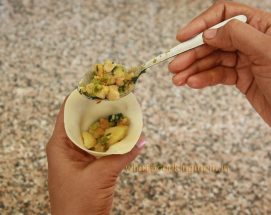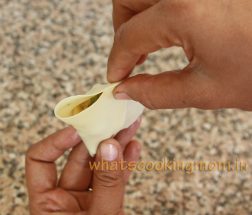 Deep fry samosas in warm oil till they are golden brown. Before serving drain on a paper to soak excess oil. Serve hot with coriander chutney or sauce.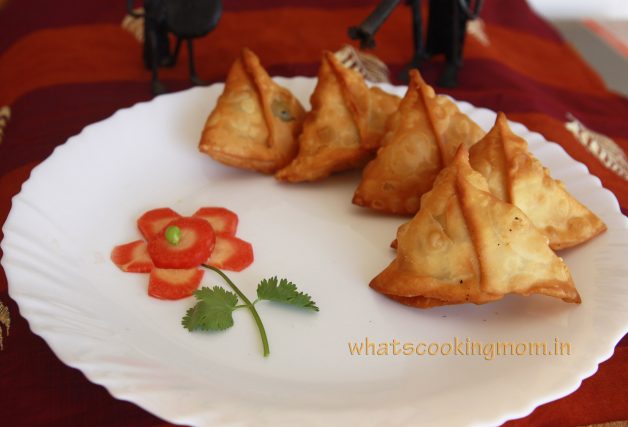 tips:
Samosa dough should always be tight. While making samosas keep the rest of the dough covered.
The oil should not be very hot for deep frying otherwise crust will not fry evenly.