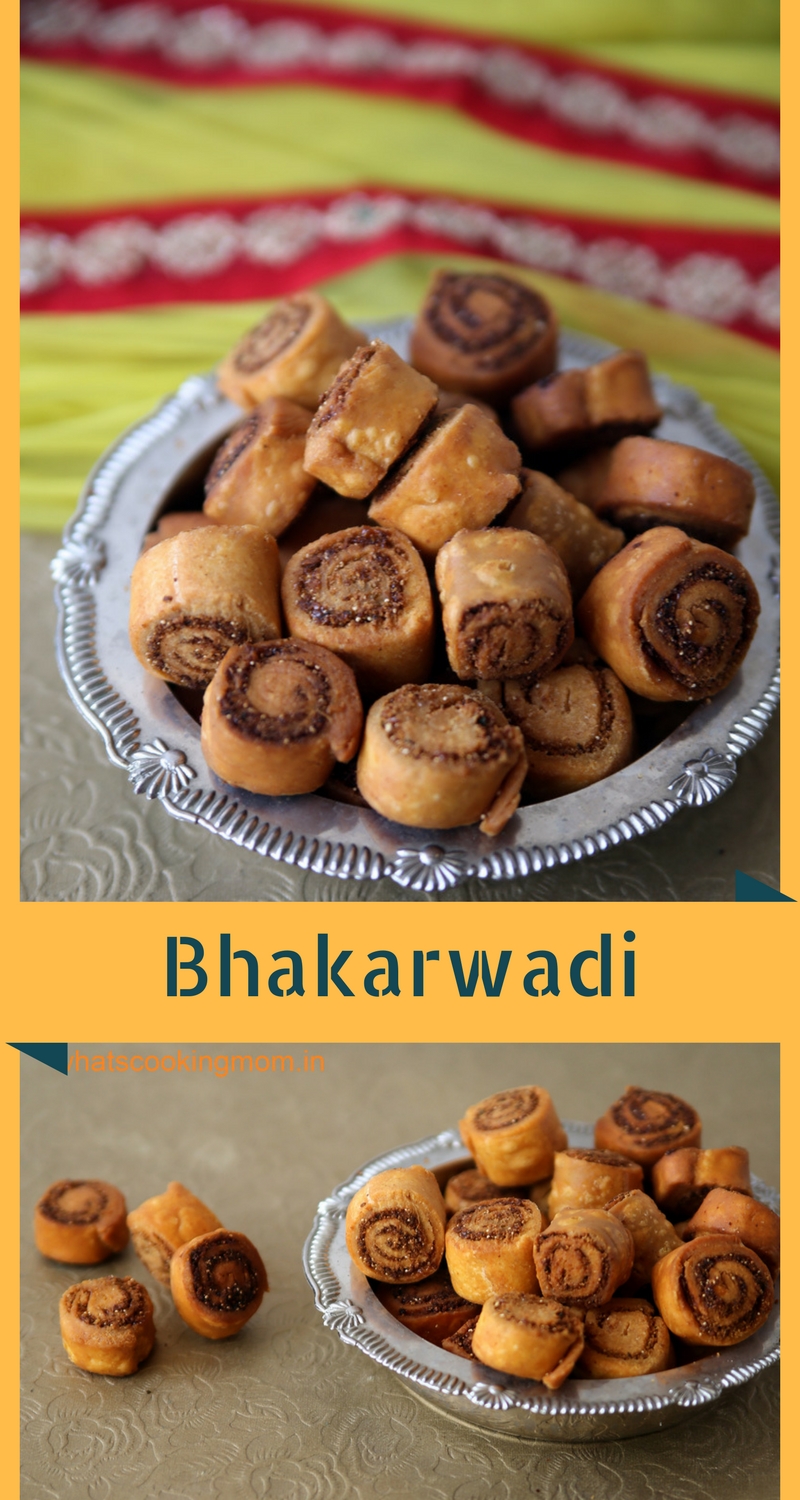 Bhakarwadi – Today I am sharing with you recipe of Bhakarwadi. Bhakarwadi is simply amazing in taste bursting with flavors. It is a spicy Tea time snack with a hint of sweet and slightly tangy. Layers after layers of spices and flavors. Hmmm… Yummy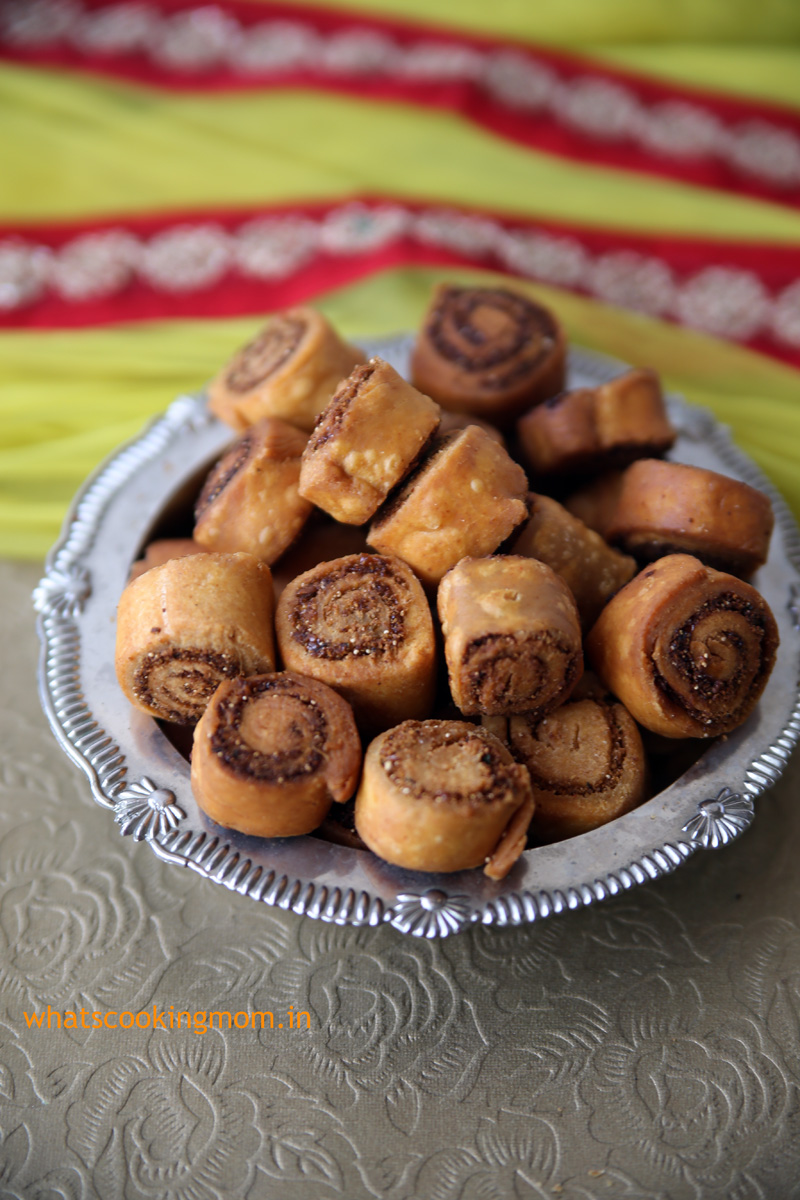 I have always liked Bhakarwadi but never tried making these at home because I thought they would be quite difficult to make. Then I saw step by step photos of making Bhakarwadi at this amazing beautiful blog spushtblogspot.in. She has explained the process so nicely and her Bhakarwadi look so tempting that I also decided to try my hand at these.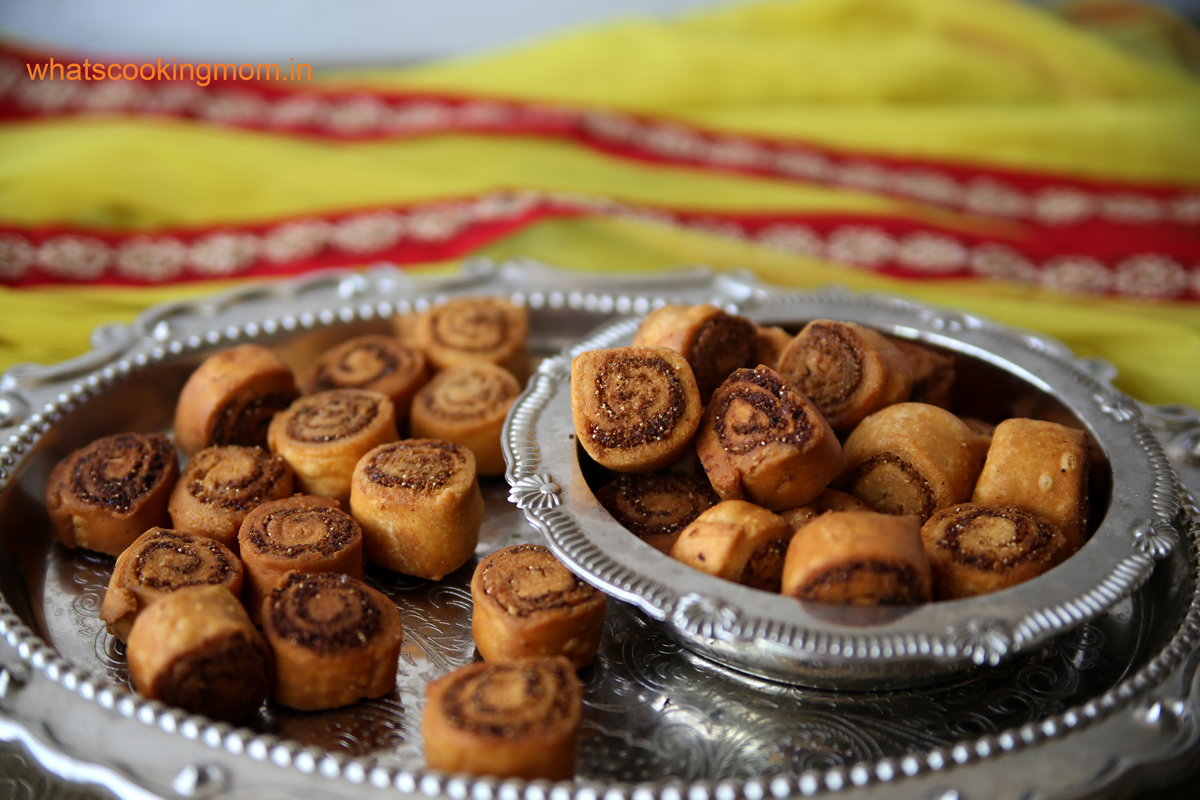 I have tried these 2-3 times now and made some changes to the recipe according to my family's taste. You can also reduce or increase spies as per your taste.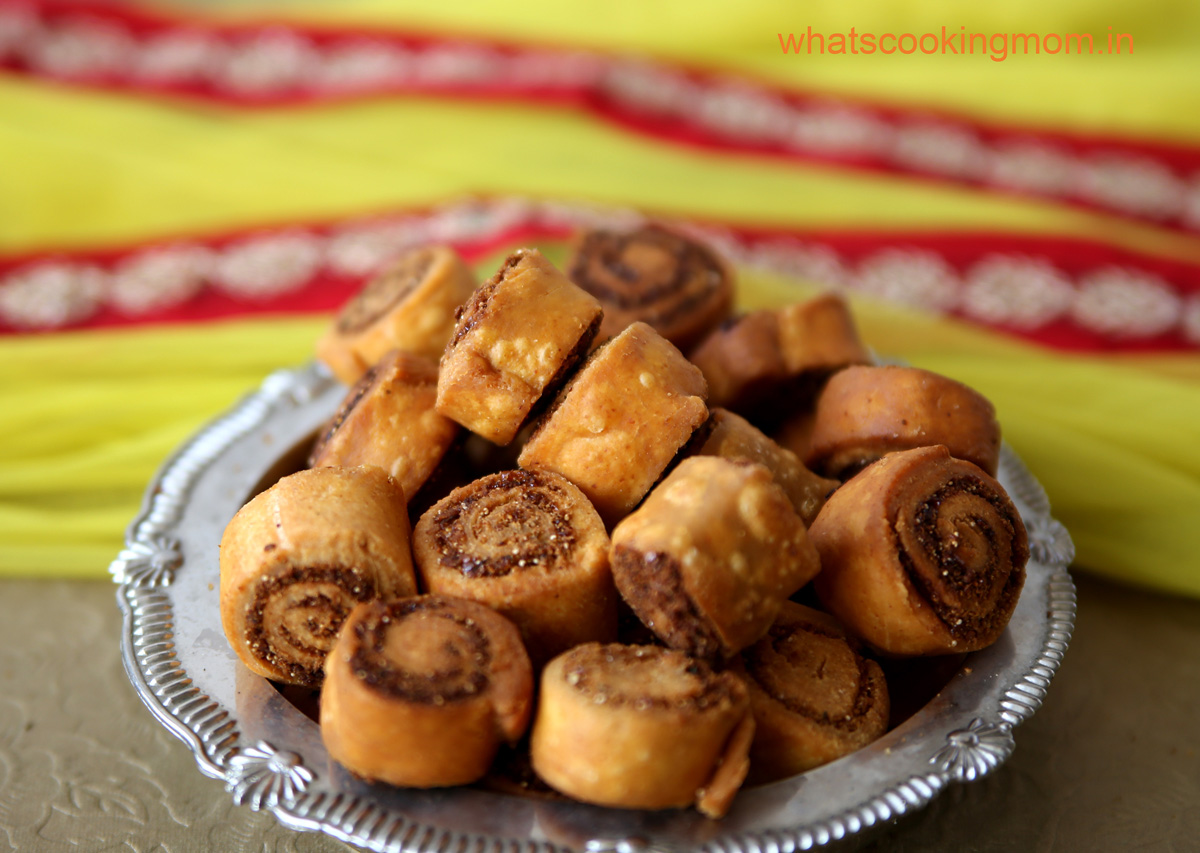 The process is quite simple and does not take a long time. But the list of ingredients is quite long so I would suggest you to measure out everything and keep aside first and then carry on with the preparations.
Another point to keep in mind is that these should be fried at low temperature to ensure uniform frying.
How to make Bhakarwadi
Adapted from Spushtblogspot.in
Preparation Time: 15 Minutes
Cooking time: 30 minutes
Makes around 30 Bhakarwadi (it depends on the size you cut)
Ingredients:
For dough
1 ¼ cup plain flour/maida
½ cup Gram flour/Besan
2 tbsp oil
¼ tsp turmeric powder/Haldi
¼ tsp red chili powder
salt to taste
1 tsp maida ( for making paste for sealing edges)
For filling
4 tbsp desiccated coconut powder
4 tsp lightly roasted poppy seeds/khuskhus
4 tsp lightly roasted sesame seeds/til
¼ tsp asafoetida/heeng
1 tsp red chili powder
3 tbsp powdered sugar
salt to taste
2 tsp roasted cumin powder/bhuna jeera
2 tsp Coriander powder/dhania
3 tsp fennel/saunf powder
2-3 tbsp thick tamarind/imli paste
2 green chili finely chopped
1 tsp grated ginger
2 tbsp chopped fresh coriander leaves
To make Bhakarwadi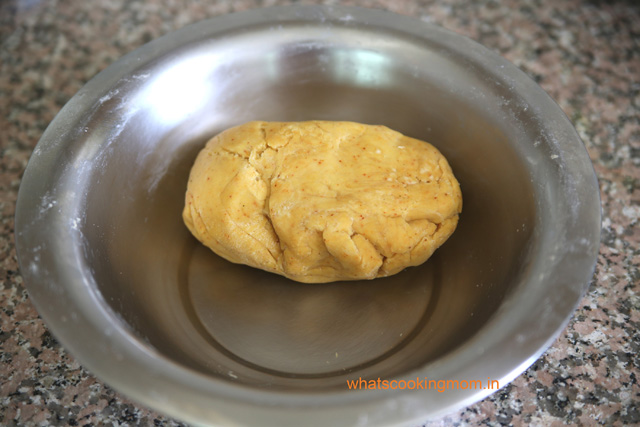 Take plain flour, gram flour, salt turmeric powder and red chili powder in a wide bowl. Add oil to it and mix thoroughly with your hands. use as little water as needed to make a stiff dough. Keep it aside for 15 minutes while you make the stuffing.
For stuffing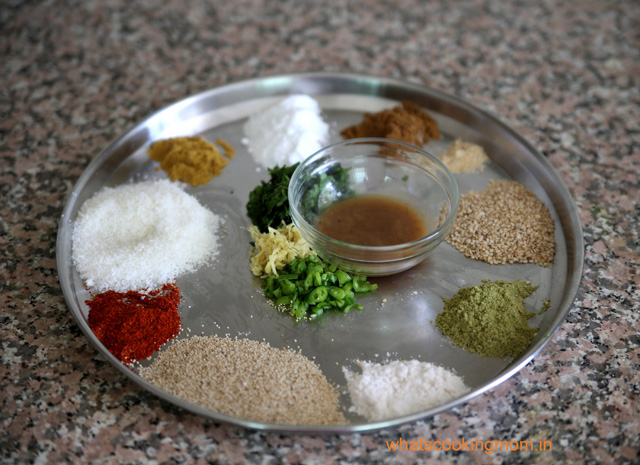 Grind roughly green chilies, ginger, poppy seeds and sesame seeds for a few seconds to make a paste.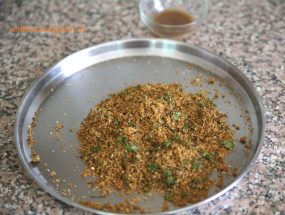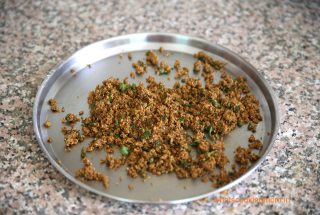 Add all the ingredients for stuffing except for tamarind paste. The mixture will be dry. Now add tamarind paste 1 tbsp at a time to check how much is needed to make it easily spreadable.
I have used around 2 tbsp of tamarind paste. You just do not want to make mixture liquidy so use thick tamarind paste.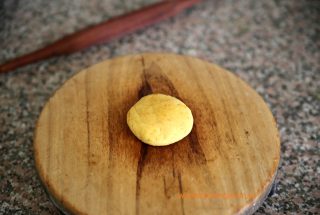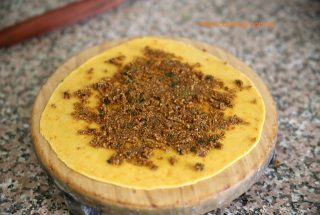 Divide the dough into 4 equal balls. Roll out the dough as thin as you can. Spread mixture in the center.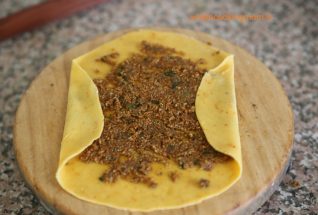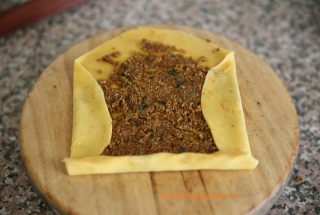 Fold the sides. Start rolling the dough from the bottom side.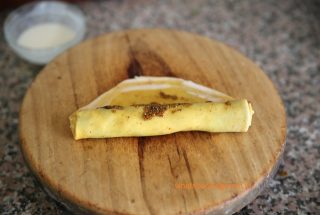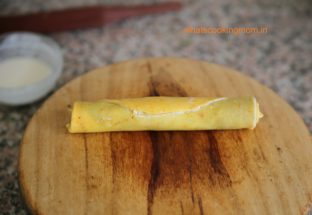 Make a thick paste from 1 tsp maida and water. Apply this paste on the corner to seal the edges. Wrap into butter sheet and keep in the fridge for 15 minutes while you roll out rest of the dough. This helps in cutting the pieces also as the roll is firmly set and edges are sealed properly.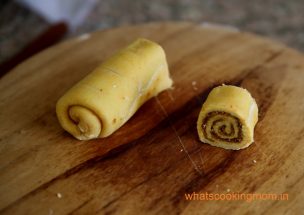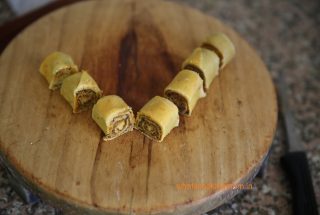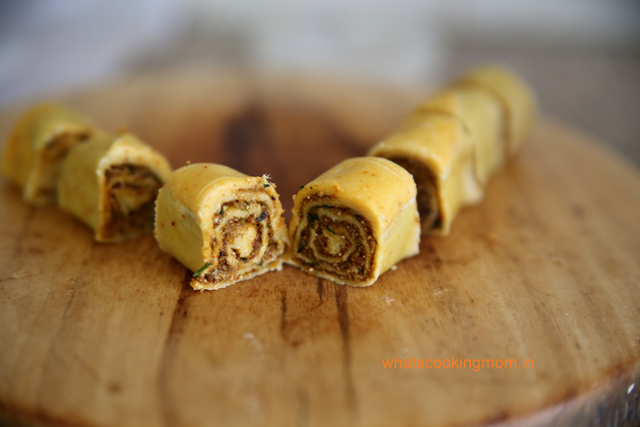 Cut into the desired size. I got around 30 pieces but it depends a lot on the size we cut.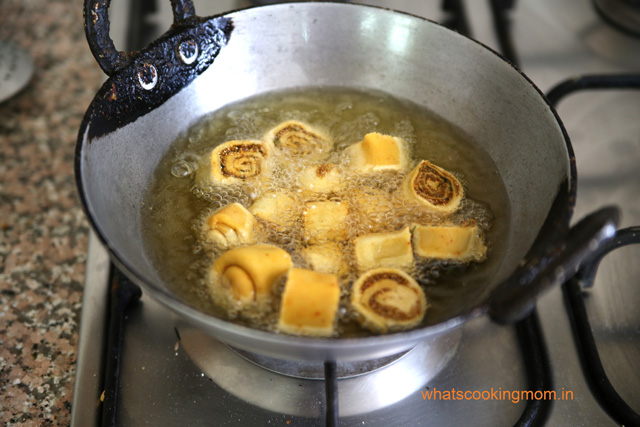 Heat oil in a kadhai and fry Bhakarwadi till golden brown. After you put Bhakarwadi in hot oil reduce the flame to low so that inner layers also get cooked.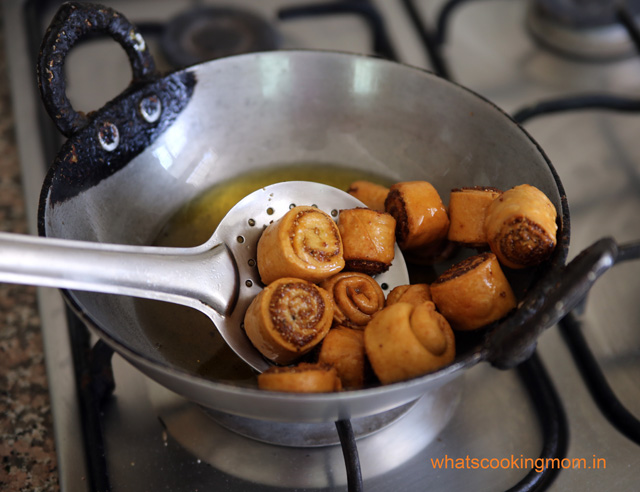 Store Bhakarwadi in an airtight container after it cools down completely.