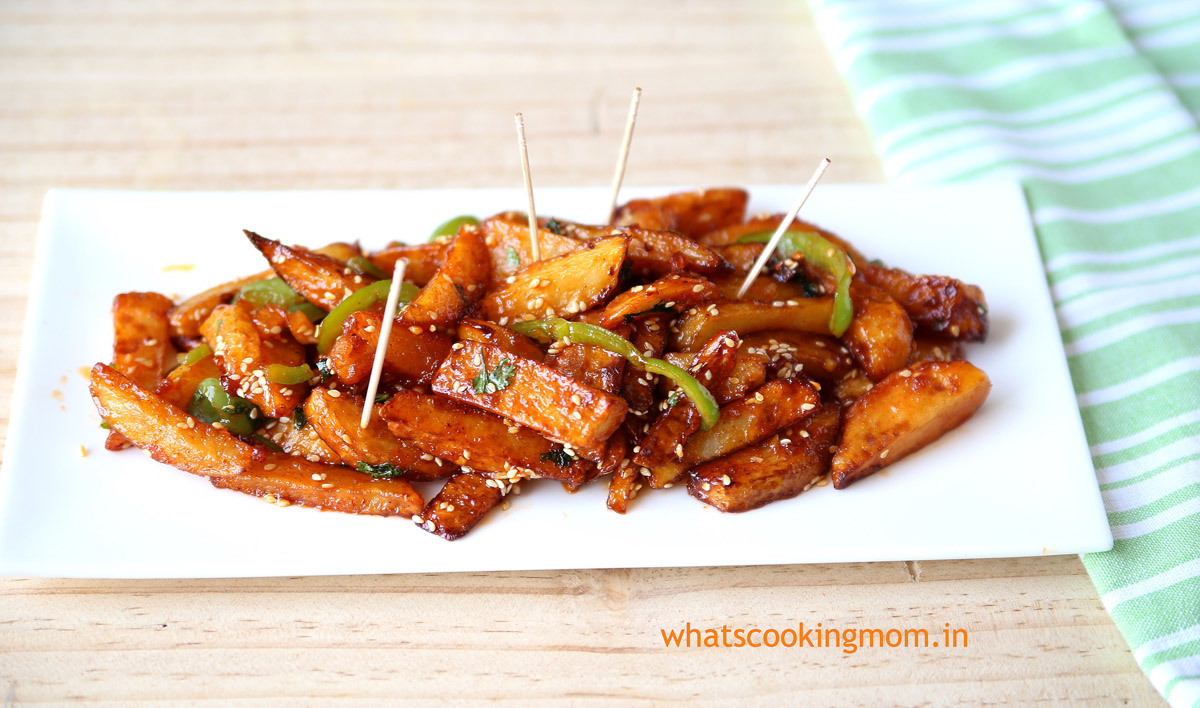 Honey Chilli potatoes are a perfect appetizer to serve your guests or kids can enjoy them as evening snack. These are always a hit in kids parties.
It has all the flavors. its spicy, a little sour and a little sweet with just a hint of garlic. Thats how my family loves it.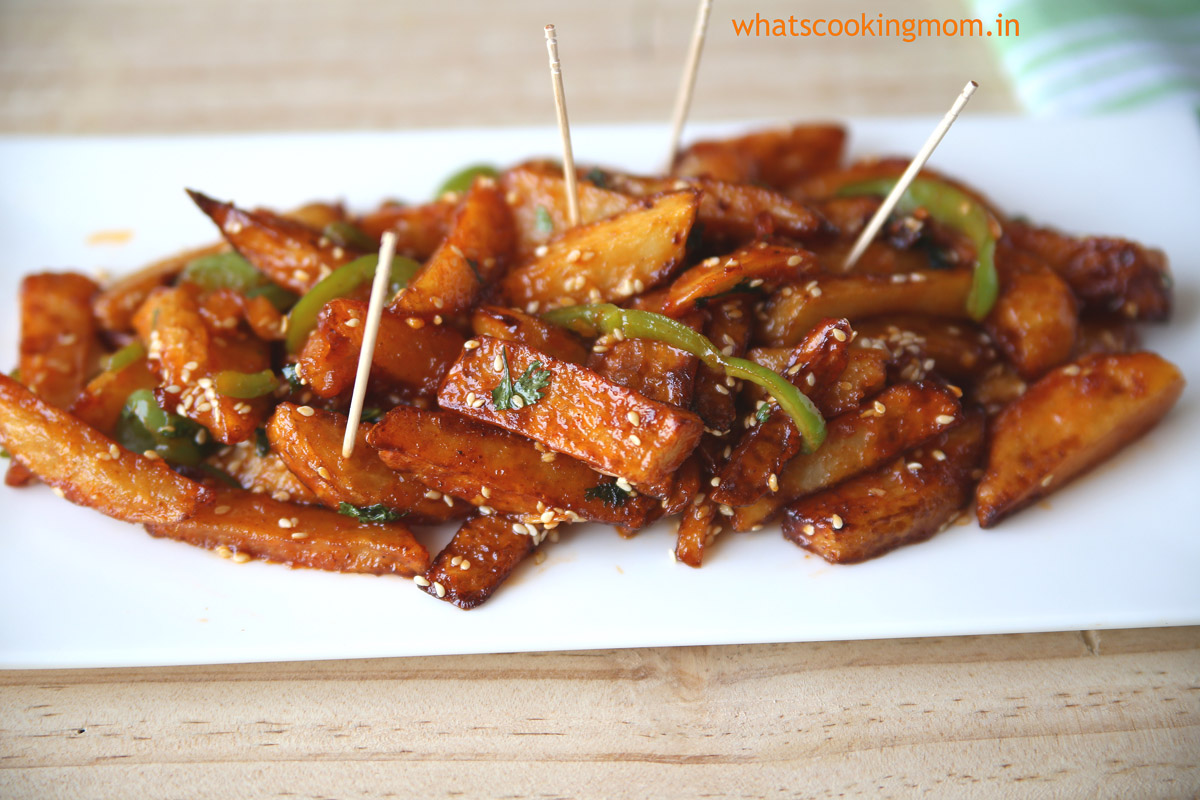 These hardly take any time to make and it takes french fries to another level. My kids gave me 9/10 and 9.5/10 today 😉
whole dish was gone in less than 5 minutes.
How to make Honey Chilli Potatoes
Preparation time : 2-3 minutes
Cooking time: 15-20 minutes frying time + 2-3 minutes
serves 4
Ingredients:
5 medium size potatoes
3/4-1 tsp salt
1 tsp red chilli powder
3 tbsp cornflour
1 tbsp tomato ketchup
oil for deep frying
1 tsp oil
4 cloves finely chopped garlic
1 tbsp tomato ketchup
1 tbsp red chilli sauce
1 tbsp vinegar
2 tsp Honey
salt to taste
1/4 tsp red chilli powder
thin capsicum slices
1 tsp lightly roasted sesame seeds
chopped coriander leaves
Note: Generally chopped spring onions are also used. I did not have them with me today so I have not used it. They give a really nice crunchy flavor to this dish.
To make Honey Chilli Potatoes
Wash and peel the potatoes. Cut thin slices as we cut for french fries. Soak potato wedges in water for 30 minutes.
In a bowl mix corn flour, salt, red chilli powder and sauce.
Drain the potatoes and add to the mixture. If you do not drain potatoes properly mixture will become runny and will not stick to the potatoes
Deep fry the wedges in small batches till golden brown.
Drain on kitchen towel to remove excess oil. Remove from the paper towel after some time otherwise fries will stick to the paper.
Heat oil in a pan. Sute finely chopped garlic for 30 seconds.
we can prepare the potato wedges in advance and just before serving make this sauce.
Add sauce, chilli sauce, vinegar, salt and red chilli powder to it. cook for a minute.
Add potato wedges to it.
Coat uniformly.
Add Capsicum slices and honey to it. if you are using spring onions add them also now.
Mix it and add chopped coriander. Switch off the flame.
Sprinkle roasted sesame seeds.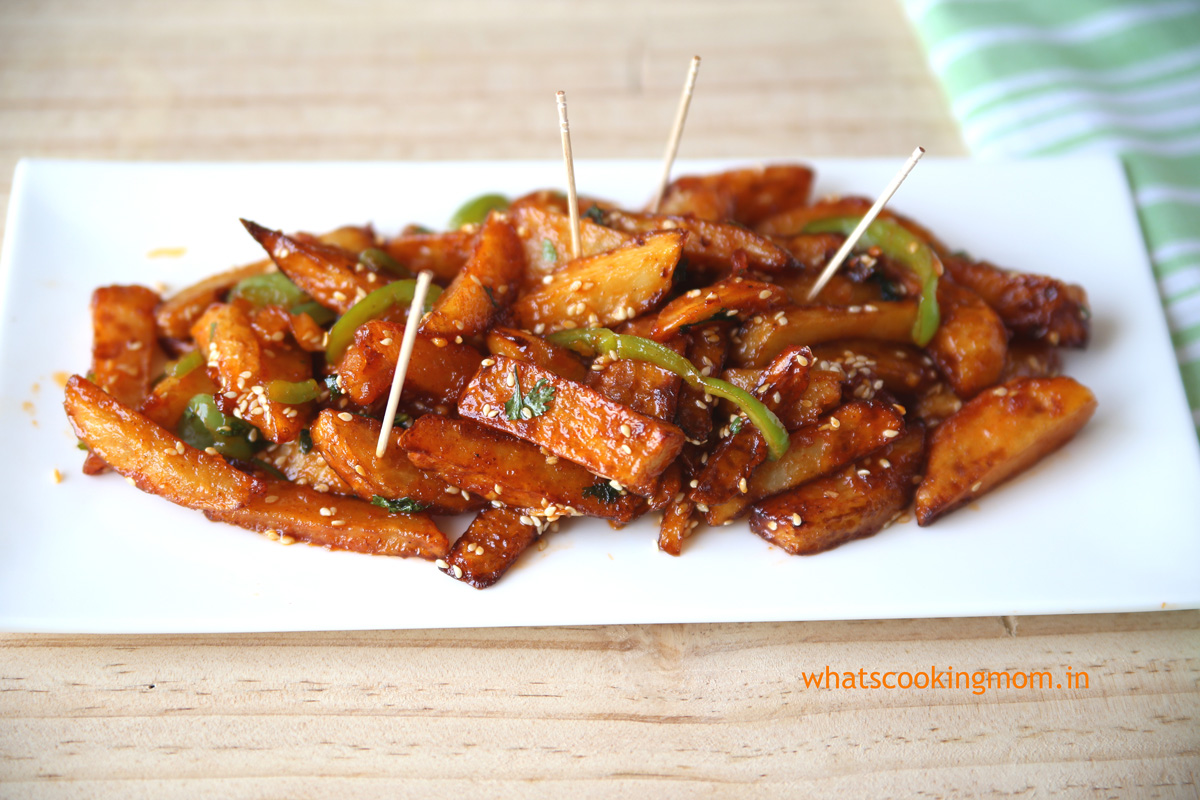 Serve hot and Enjoy